The Dynamic Duo of Arrianna Gomez and Jesus Cruz Valdez
In Agua Fria's Theatre Club, there're plenty of talented and hard-working people, but none shine as bright as Arrianna Gomez  and Jesus Cruz Valdez. Both are heads of tech, amazing actors, and most importantly, great friends. 
However, to truly see what interesting people they are, let's meet them and see what they are all about. 
Arrianna Gomez is one hard worker and, in my eyes as well as others, a role model in the theatre club. If she were to describe herself, she would say, "I'm a shy person until the point where you get to know me, then I'm an open book. I'm also short (but we all know that lol)." 
Arrianna has always wanted to express herself in more ways, and soon found her interested in theatre was the way to go! 
Arrianna said, "I've always been fascinated by acting so when I saw the opportunity to join I took it and everyone was just so welcoming. I absolutely love theatre. I feel like I'm home when I step on stage or am just with the club. I definitely see myself doing theatre in the future, I'm actually going to minor in theatre in college." 
She loves theatre so much that she soon became a head of tech in the departments of Costumes, as well as the Head of Hair & Makeup! Her role is to help find costumes, hair, and makeup for actors that would suit them best in any production, and then get them approved by Mr. Gonzalez. I cannot count the number of times where she has helped me out! 
Now, let's talk about Mr. Jesus! Jesus is another Head of Tech, where he runs the department of construction. His job is to help make all the impressive sets and backgrounds we have for productions! He is also a fantastic actor and an aspiring author, where he hopes to one day write books. As for right now, he writes poetry on his Instagram page, and it is definitely worth your time. 
When he states what brought him into theatre, he states it's a hot take. "It's better than most sports in my opinion," Jesus said. "Sports can cause a lot more injury as there is a lot more contact. Theatre also intrigued me because it is a way to mask yourself and pour your own emotion through the character you are playing. It was also appealing to me because there is a lot more that goes into theatre than I originally thought."
When asked how they met, they explained how they viewed each other was something rather wholesome. Jesus explained, "To provide context, I was the new kid at the school Michael Anderson School. I sat down for my third-period class and Arrianna would sneeze a lot, I thought it was an adorable sneeze so from there forward they were known as the 'cute sneeze' and we got closer from there." 
While compared to Arrianna, her explanation was also as sweet. "I first met Jesus in 6th grade," she said. "I thought he was interesting. He was shy and quiet but I really wanted him to feel comfortable, and seeing him opening up more over the years brings me so much joy."  
This dynamic duo continued being friends even throughout high school, where they soon joined theatre, where they both agreed it was a positive experience and impact in their lives. 
Arrianna said, "Oh definitely, we have both opened up more and were able to meet new people and expand our friend group while also strengthening our friendship as well. The support we show each other from being in this club has helped us grow closer." 
Being together in theatre was agreeable, a great moment for them and something that helped them, as Mr. Javier Gonzalez, Agua Fria's Theatre teacher, would concur. Gonzalez believes that theatre has the power to help people boost themselves, with confidence. And with confidence, once a person has the confidence to show themselves, then that's where the beauty happens. That's why he was very intrigued with Arrianna and Jesus.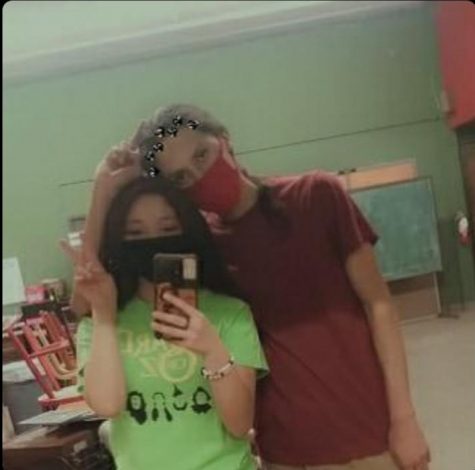 When he first met the pair, he stated that they were quiet and shy individuals and was interested in how they would progress. "Knowing as the semesters went on, their interests grew, so I got more and more excited to see what they could accomplish if they continued the process of theatrical knowledge," Mr. Gonzalez said. "To see them branch into their own people." 
When asked about highlights of them, Mr. Gonzalez sighed and admitted that there's a lot. However, what he's most proud of are their evolution and growth. 
"When I go with Ari, the first thing that comes into my mind is when she had her first speaking role in Legally Blonde as Chutney Windham," he said, reminiscing. "We didn't even know much about each other yet, but seeing her performance there and if we flash forward four years later, doing 'In The Heights' as Vanessa, we can see the big growth there. That's probably one of my greatest memories of her. Just how much she has grown." 
Gonzalez added, "With Jesus, also very quiet. But seeing all these years growing into having a stronger voice and just being more confident, it's pretty amazing. And he's been very reliable, of someone who can be trusted, and one to not worry about. I'm very proud to see him the person he is today." 
As the friends leave to the uncertain future and attend college, they are aware that things will be different. Arrianna will major in Graphic Design, while Jesus leaves to major in theatre to become a theatre teacher himself! However, one thing they are sure of: their friendship isn't ending anytime soon. 
Jesus said, "I do believe we'll keep this friendship going for quite a while. I don't know how long, but they have had quite an impact on me as a person, so I hope to hold onto them for as long as possible."
While Arrianna replied, "We have both gotten to the point where we are so close to each other to where I feel if we were to ever break off the friendship it would just be bad for both of us. I'm honestly not sure about what's going to happen in the future and I'm not exactly ready, but whatever happens, I know I'll be able to get through it."
Jesus agreed and said, "In general, I do not know if I'm ready, but being 'ready' has never really been a thing. We tend to get pushed into adulthood as soon as we graduate high school with slim-to-no real-world experience. So it feels as if we are rushed and expected to be successful. I do blame the school system somewhat as we are with them one third of the day. We learn almost nothing of real value." 
However, Mr. Gonzalez said that he believes they'll be fine and be great!
"I know it's a collaborative effort with how well prepared students are with all the other teachers on campus, counselors, and even parents' involvement as well," Mr. Gonzalez said. "With my role, I believe I gave them enough of a platform to build upon from there and grow on. I think they are going to do well and they are ready, and they need to spread their wings and fly."
He continued by saying one thing he wanted to tell them before they left. He said, "I am very proud of both of them, and stay true to who you are. And just know that it's not a sprint, but a marathon. You're going to get told no a lot, but you have amazing talent and skill, and if you keep believing in yourselves, and you'll always have one of your biggest fans: me." 
Before leaving, we asked if they had any parting words to spare, and they did have something to say. 
Arrianna said, "Just stay true to you and who you are, don't change for anyone cause then you lose yourself. Do whatever makes you comfy, no matter what position you have in theatre, you are equally as important as everyone one else in the club whether you are an actor or techie."
While Jesus said, "Do not hold back acting-wise, volume-wise, or singing-wise. When you are on that stage you are a different person, a different character. You are no longer just you. Be calm, but most of all just have fun."
As we end, I must say, I am so happy and proud to have met these amazing people. They are talented, courageous, intelligent, and overall, the most important thing, kind. I cannot wait to see them venture off into the future and see what will happen and how they'll even grow further. 
OwlFeed wishes you to have a great future. Break a leg and hopefully we can see this dynamic duo shine even brighter once we meet again!