Jourdyn Dinbokowitz: The Dancing Queen
Senior Jourdyn Dinbokowits is truly the ultimate dancing queen. 
She has spent most of her life dancing and took her talent to Agua Fria and is soon taking it all the way to New York to follow her dreams. 
Jourdyn is heavily involved in school activities, starting at her freshman year. Jourdyn came in hot and landed a varsity spot on the pom team and rocked her way to the top all four years of high school. 
In her junior year Jourdyn started her theater career and found a passion for theater. She starred as Morticia Adams in 'The Addams Family' last year and as Camila Rosario in 'In The Heights' this spring.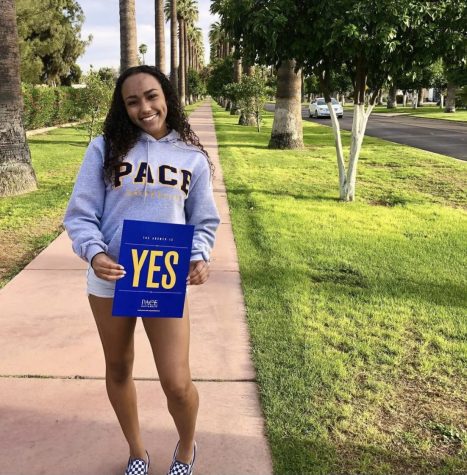 Not only that, Jourdyn also takes all AP and honors classes and excels in them all! 
One of Jourdyn's favorite classes she has taken was AP World History with Mr. Martin. 
"Jourdyn was a phenomenal student," Mr. Martin said. "She worked extremely hard, studied constantly, and always strived to improve. I don't know if I have ever had someone come to tutoring more than her!"
As someone who also went tutoring a lot, I can confirm that statement. 
Jourdyn has even managed to teach Mr. Martin some things. Although it may not be about history, she does know a lot about having fun. 
"Jourydn has taught me to lean into my goofy side," Mr. Martin said. "High school students are young adults but they are also still kids. Teaching is a very serious job and history is a very serious subject but you have to have fun sometimes and joke around with students. School and learning are just so much better when you enjoy the classroom environment." 
Jourdyn is an extremely influential person with a contagious laugh and definitely leaves her mark on those around her. One of Jourdyn's good friends, Ally Marsit, said, "Jourdyn has taught me how to live my life to the fullest. She has pushed me to try new things, to get involved, and to laugh along the way. My life has truly changed for the better because she was in it and I'm so grateful and blessed to have a best friend like Jourdyn."
Jourdyn clearly does a lot for others but also needs a support system herself and she finds that in her mom. 
"The person that has gotten me through the past 17 years is definitely my mom," Jourdyn said. "She is the best mom ever that has continuously supported me throughout my school and dance career. I don't know where I'd be today without her continuous love, support, and belief in me. She means the world to me and I couldn't do it without her."
Alongside her mom is one of her best friends, Rylee Bird. 
"The most influential person in my high school life has been my best friend, Rylee Bird," Jourdyn said. "Even though she goes to Verrado, I have grown up with her at my dance studio and she has remained by my side through literally everything. 
"She truly is the person I could go to for absolutely anything and has gotten me through every high school experience I've had. She is always there for me and I can't imagine how high school would have been without her being here. I'm very thankful to have had her by my side through the down moments. She is always here to cheer me on and support me and I'm so thankful for that."
As for the future, Jourdyn will be attending PACE University in New York City to continue her dancing career! "This will help get me closer to achieving my dreams. I'm super excited for this next chapter of my life," Jourdyn said.
With Jourdyn moving across the country she will definitely be missed by many, including myself. 
"The thought of Jourdyn and I being apart from one another makes me want to cry on the spot," Ally said. "She's going all the way to New York and I am staying in Arizona. I'm going to miss her like crazy but I know we'll stay in touch. We've already talked about me flying out to see her and her showing me all around the big city. Jourdyn is such a talented dancer and I can't wait to see how much she grows out in New York."
Jourdyn, thank you for leaving such a positive impact on not only our school and everyone around you but me personally. I love you so much! OwlFeed wishes you the best in New York. Prepare for those cold winters! 
Congratulations Jourdyn, you did it!
Photo Credit: Jourdyn Dinbokowitz