The Covid-19 Vaccine Is Now For Kids 5-11 Years Old
While the Covid-19 vaccine was previously only for people 16 and up, the Food And Drug Administration has approved that kids from 5-11 years old are now able to get the Covid-19 vaccine. 
On December 11, 2020, the very first Emergency Use Authorization (EUA) issued the Pfizer-BioNTech Covid-19 Vaccine for the ages 16 years and older, which was mainly based on safety and effectiveness data that is from a randomized, controlled, blinded, ongoing clinical trials for thousands of individuals. 
Last year on December 18, 2020, the FDA approved of an EUA to use the Moderna Covid-19 Vaccine on people. On February 27, 2021, the FDA approved an EUA to let people get the Johnson & Johnson Covid-19 Vaccine. 
The Covid-19 cases for children in the United States from 5-11 years old form 39% of the cases for individuals aged 18 and younger. Approximately, Covid-19 cases in kids from 5-11 years have had 8,300 hospitalized. Due to Covid-19 there have been 146 deaths in kids 5-11 years out of 691 deaths reported in the U.S. for individuals less than 18 years as of October 17. 
According to cdc.gov, "The federal government is committed to ensuring that children ages 5 through 11 years old have access to COVID-19 vaccines. Scientists have conducted clinical trials with about 3,000 children." 
As fda.gov added, "Safety: The vaccine's safety was studied in approximately 3,100 children age 5 through 11 who received the vaccine and no serious side effects have been detected in the ongoing study."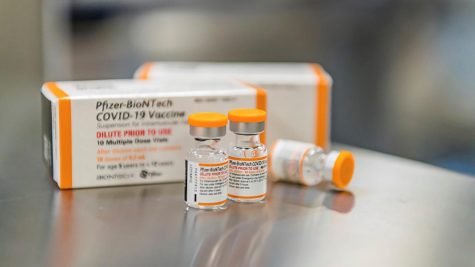 The FDA has committed that the Pfizer-BioNTech Covid-19 Vaccine met the standards of safety and efficacy for authorization to children from 5-11 years of age. 
The Covid-19 Vaccine for children 5-11 year old will receive a separate vaccine that has an orange cap which is one-third the dose adults and adolescents get, plus it has a smaller needle. The vaccine has a two-dose primary series which are 3 weeks apart. They have 10 micrograms less than for people who are 12 and older. 
As confirmed by politico.com, "Data represented by the Centers for Disease Control and Prevention showed that children ages 5 to 11 are 'at least as likely' as adults to contract Covid-19, and surveillance testing suggests pediatric cases are widely underreported."
According to fda.gov, "The authorization was based on the FDA's thorough and transparent evaluation of the data that included input from independent advisory committee experts who overwhelmingly voted in favor of making the vaccine available to children in this age group."
Most people who are not vaccinated get Covid-19, while the vaccine is not 100% effective at preventing infections. Even people who are vaccinated can get Covid-19, but if you get Covid-19 and are fully vaccinated it is then referred to as a 'vaccine breakthrough infection.'
Now that kids from 5-11 years old can get the Covid-19 Vaccine, they won't have to worry about getting seriously sick from Covid as much.