Rachel Balkovec Becomes First-Ever Female Minor League Manager
Baseball history was made in the first week of 2022 when Rachel Balkovec was announced as new manager for the Yankees minor league team, the Tampa Tarpons. Balkovec is the first female to hold this title in all of major league baseball. 
Balkovec has a bachelor's degree in Kinesiology and Exercise Science and has also earned two degrees in Sports Administration and Biomechanics. She has worked extremely hard her whole life and has achieved much, which makes her the perfect fit for this job. Not only does she have an amazing education, she's played Division I softball fat Creighton and then transferred to University of New Mexico. 
As a child, she grew up in Omaha, Nebraska, with her two sisters, mom and dad. Her dad worked as a manager in customer service for American Airlines and her mom was a bookkeeper. She attended Skutt Catholic High School where she played softball, soccer and basketball. 
Not only is this a huge milestone in baseball but a milestone for women in sports. Balkovec had worked many different jobs in MLB such as the hitting coach for the Yankees and a full-time strength and conditioning coach. 
Balkovec has been working in sports for a decade, working for the St. Louis Cardinals and the Houston Astros in many different positions. She even worked at Arizona State University as the strength and conditioning coach. 
Although none of this came easy to her, she overcame gender discrimination and had to fight even harder for the positions she gained. In 2013, after not getting many coaching jobs in Phoenix under the name Rachel, she changed it to Rae. 
Balkovec had to keep out certain information that would give away the fact she's a female. Rather than saying she played Division I softball in college, she would just tell them she was a Division I catcher. This led to many phone call interviews where she would get shut down as soon as they heard her voice. Balkovec was even told by a MLB team that they would never hire a female coach. 
After changing her resume to be more gender neutral, more teams started reaching out and giving her a chance. She had an extremely impressive resume that got looked over simply because she was a female. Balkovec has shown women in sports that they have a place there and can do more than just be a fan. Balkovec has motivated and pushed women in sports to be more than the status quo. 
Brian Cashman is the General Manager for the Yankees who has spoken out about the gender discrimination problems in sports. "The sky's the limit," he said. "She's determined. She's strong. She's got perseverance." 
Cashman believes that Balkovec deserves this role and is proud that Major League Baseball has been the first sport to step out against gender norms. 
As the first female manager in an all-male sport, it would be naive to ignore the many challenges that come with it. It's not the norm. It is something new and something different that athletes, coaches and staff will all have to learn to adjust to together. 
With no other females in her position, Balkovec has faced some barriers and hate because of her gender. She's been dealing with hate online from people ever since her promotion was announced. Although it seems these comments have stayed online and it hasn't been seen in the clubhouse. 
"The players that I've worked with, whether they like me, they don't like me, they like what I'm saying, they don't like what I'm saying, I do feel like they respect me," Balkovec said in an interview with ESPN.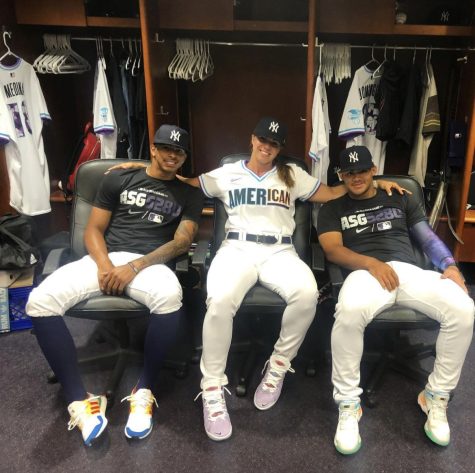 As MLB learns to adjust to this new change, people are going to adjust to working with females in the major leagues because this seems to just be the start of things. 
Balkovec has made it a point to be more than just a manager for the guys on the team. It is her goal to be invested and influential in their personal lives rather than just their baseball careers. As the manager her goal is to help them grow as young men and individuals because she recognizes that there is so much stress and pressure put onto these guys. 
She hopes to create an environment where the players can grow personally and professionally. She wants to help facilitate an environment where these young men can succeed. 
Many other women who have strong social media platforms supporting other women have spoken out about Balkovec's success. Billie Jean King, former #1 tennis player in the world and someone who also broke many gender norms in sports, tweeted, "History made in baseball," and congratulated Balkovec for her achievements. 
It is so amazing to see how much one person can impact a whole group of people. Rachel Balkovec has forever changed baseball and has forever changed the women's workforce for all girls in the future. This is just the beginning for women in sports and it will be exciting to see what comes next.