Calls to Deplatform Joe Rogan Sparked by Covid Misinformation
In the month of May, 2020, Joe Rogan was offered a multiyear $100 million exclusive contract with Spotify for his well-known podcast "The Joe Rogan Experience." But after two years of the podcast being released, many artists want to leave Spotify due to Rogan presenting misleading Covid-19 information and saying the N-word in multiple episodes.
For those who don't know, before Joe Rogan was a well-known podcaster, he was a stand-up comedian and hosted the popular competition show "Fear Factor," which started in 2002. Rogan then began recording conversations with his friends and soon the most controversial podcast was born in 2009. 
Every week, his podcast episodes flourish with views as Rogan interviews many well-known musicians, athletes, and even scientists. He also states his own opinions on certain topics that are either favorable or unfavorable from the audience. 
"His politics are ambiguous in that he doesn't claim to be a Republican or Democrat, but he's known for hating political correctness and censorship," said Lily Sabella from The New Paltz Oracle. "While his audience may be large, it is also narrow and made up almost entirely of young men, many of whom idolize Rogan and take his word as gospel."  
One of his biggest podcast episodes is where he interviews co-founder and CEO of Tesla, Elon Musk. People were intrigued as Musk is rarely interviewed and gives out private information about himself.
But as of February 2, Rogan has got himself into a bit of a controversy. In December of 2021, Rogan released an episode with Dr. Robert Malone, who according to Shannon Bond from NPR is "a scientist who worked on early research into the mRNA technology behind top COVID-19 vaccines, but who is now critical of the mRNA vaccines." 
On the episode Malone made false statements about how people who had Covid-19 get the vaccine are at higher risk. 
Many doctors, scientists and health experts share their worries and complaints of the false information being broadcasted to millions of people through Rogan's popular podcast on Spotify. An open letter was created to encourage Spotify to crack down on Covid-19 misinformation which has gathered thousands of signatures.
Katrine Wallace, who works at University of Illinois Chicago's School of Public Health as an epidemiologist who monitors infectious diseases, bioterrorism threats, and other problem areas for public health agencies signed the letter. Worried about the issues, she said, "We are in a global health emergency, and streaming platforms like Spotify that provide content to the public have a responsibility not to add to the problem."
And to add to this situation, this isn't the first time Rogan has added false Covid-19 information into the media. He once said that young and healthy people don't need the vaccine. 
On an episode of his podcast Rogan said, "But if you're like 21 years old, and you say to me, should I get vaccinated? I'll go no. Are you healthy? Are you a healthy person?" 
"If you're a healthy person, and you're exercising all the time, and you're young, and you're eating well, like, I don't think you need to worry about this," he said. 
Near the end he then proceeded to say that he is not a respective source of information.
When he got ill with Covid-19 halfway through 2021, he proceeded to promote taking ivermectin as treatment, which is a "deworming veterinary drug that is formulated for use in cows and horses." The Food and Drug administration has warned the public about it.
After this array of misinformation was spread, Spotify denied to comment to NPR, but the company has said that it has taken down 20,000 podcasts episodes for breaking the policy of "dangerous false, deceptive, or misleading content about COVID-19 that may cause offline harm and/or pose a direct threat to public health." Other than that, Spotify's CEO does not take responsibility for what Rogan and his guests say.
Due to Rogan's pool of misinformation, artists like Neil Young and Joni Mitchell wanted to leave the music platform if Spotify kept Rogan's podcast. Later artists like Crosby, Stills and Nash also followed along, but due to Rogan's bigger popularity, Spotify complied and started removing some of the artists' music.
With Neil Young and Joni Mitchell's want for absence from the company, according to Insider, Rogan said, "I'm very sorry that they feel that way. I most certainly don't want that." 
Aside from these artists wanting Rogan to leave Spotify, so does Rumble, a right-winged video platform startup. According to Joyce Li from HypeBeast Rogan rejected a $100 million contract to part ways with Spotify saying, "No, Spotify has hung in with me, inexplicably. Let's see what happens."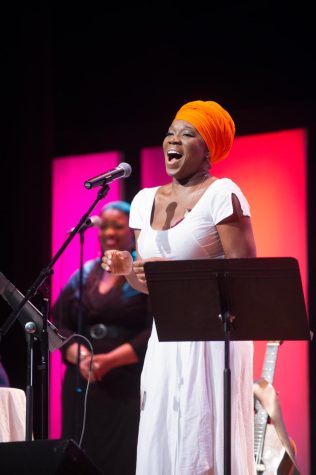 And finally, to add to Rogan's pile of controversies and wants for deplatform, India Arie, an American singer songwriter and podcaster, asked Spotify to specifically remove her music and podcasts due to Rogan saying the N-word multiple times and making racist remarks towards black people.
Arie shared a complication of the podcaster saying the N-word and posted on Instagram, saying, "I have decided to pull my music and podcast from Spotify. Neil Young opened a door I MUST walk through. I believe in freedom of speech. However, I find Joe Rogan problematic for reasons OTHER than his Covid interviews. FOR ME IT'S ALSO HIS language around race."
"What I am talking about is RESPECT – who gets it and who doesn't. Paying musicians a fraction of a penny? And HIM $100 million? This shows the type of company they are and the company that they keep. I'm tired," Arie said.
Rogan had then claimed to not be racist and would only say the word when it "came up in conversation," but due to this people seem to obviously disagree. He then came out with an apology, saying, "I know that to most people, there's no context where a white person is ever allowed to say that word, never mind publicly on a podcast, and I agree with that now." He then added that he hasn't said it in years. 
Aside from saying the N-word, Rogan has also made a joke about black people and "Planet of the Apes." In another article from NPR, a clip from 11 years ago, Rogan makes a joke while walking into a movie theater with his friends to see "Planet of the Apes" and realizing there were no other white people in the theater, making the remark that he had walked into Planet of the Apes in real life. Even though Rogan says he had no intention of being racist, people claim he was 100% being racist.
Based on this remark, host of the Daily Show, Trevor Noah, said, "Joe, I think you were using racism to be entertaining. I'm not saying you were trying to offend Black people…But you knew that offending Black people would get a laugh from those white people you are friends with."
As of now, Spotify has quietly removed over 70 episodes of "The
Joe Rogan Experience" not having to do with the Covid misinformation, but with Rogan saying the N-word.
And to finally conclude, Rogan said during his apology, "I want to thank Spotify for being so supportive during this time, and I'm very sorry that this is happening to them and that they're taking so much heat from it." 
We will now have to wait and see if Spotify will make any statements about the situation or will continue to pretend like nothing happened.