Shaun White's Final Drop In
It's a sad day for snowboarding fans all around. Shaun White, America's greatest Olympian, announced Beijing will be his final ride in the halfpipe.
Shaun White started his monumental career at the mere age of 6, getting sponsorships and recognition for his athletic abilities. At age 9, he began skateboarding at his local YMCA, where he caught the eye of professional skateboarder Tony Hawk, who mentored and helped him go pro at age 16.
He competed in his first Summer X Games in 2005, winning silver in the vert ramp. He then went on to compete in the 2007 X Games and took home gold. He had a bit of a fall in the 2008 games, but he still won bronze. He then redeemed himself and won gold and silver in the 2010 and 2011 X Games, finishing his skateboarding career. He holds the record for most gold medals won in X Games history. 
Following his brother Jesse's footsteps, Shaun swapped his skis and skateboard for a snowboard, a switch that would change his life forever. 
After not qualifying for the 2002 Olympic team, he spent the next four years putting in the work, reinventing himself, and ultimately showing people he isn't going to stop.
 "That Olympics for me was about saying, 'Here I am. I'm not just the name or the kid anymore,'" White said on ESPN. 
At 19 years old, White competed in his first Winter Olympics. He made it out of qualifying by the skin of his teeth, scoring a 37.7 in his first run, a 45.3 in his second, and in the finals, scoring a 46.8 out of 50 to claim the gold. It's here he gained his nickname "The Flying Tomato" due to his long, bright red hair under his helmet flying through the air. 
White won at the 25th Burton US Open in 2007, where he placed third in slopestyle and first in the halfpipe. At the 2007 Open, White was also crowned the first "Burton Global Open Champion." In 2008, after a near-perfect run, he captured his third consecutive title in the snowboard halfpipe at the US Open Snowboarding Championships. 
Along with winning medals and trophies, in 2008 White released his first video game Shaun White Snowboarding. It was the 20th best-selling game in December of that year.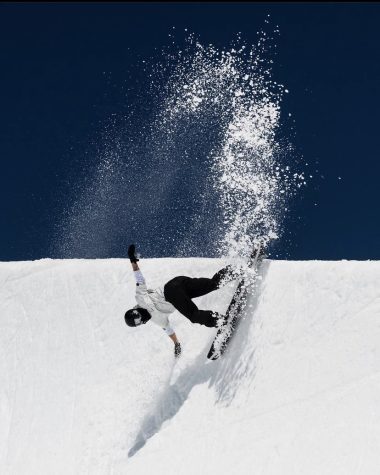 Again, White won gold in the 2010 Winter Olympic halfpipe. He scored 46.8 on his first run, not even needing a second run because his score was high enough to win gold alone. 
After failing to reach the finals in the Slopestyle at the 2011 Winter X Games, White came back fighting and took gold in the Superpipe, earning his fourth straight gold medal at the Games. 
At the 2012 Winter X Games, White became the first ever to score a perfect 100 in the Superpipe. 
The year 2014 was an unfortunate year for White. He finished fourth at the Winter Olympics.
While training for his comeback at the 2018 Olympics, White crashed into the side of the superpipe, requiring 62 stitches to his face and five days in intensive care. Not letting this come between him and that podium, he qualified for the team and won the gold using the trick that nearly killed him months before. His gold medal was the 100th gold medal for the United States at the Winter Olympics. 
During the 2022 Winter Olympics, White announced this year would be his last, following it up by stating it would be his final competition altogether.
 During his final competition, they kept showing clips of White's family back at home, most notably mentioning his girlfriend, actress from The Vampire Diaries, Nina Dobrev. 
"I support him in whatever decision he makes, always," Dobrev said in an interview with US Weekly. "He's the only one who could make those decisions." 
He sat cozy in second place but crashed on his final run, bumping him down and finishing in fourth.
 "My legs just gave out on me," White said while awaiting his score after his unfortunate run. 
Shaun penned a tearful goodbye to the sport that he grew up on and loved, that shaped and molded him into who he is now. 
"I'm so proud of the last two decades of wins, losses, ups, downs, blood, sweat, tears, and everything in between because they made me who I am today,"  White said on Twitter. "This has been the ride of my life!" 
While the snow that is Shaun's career has melted, he will hold the title of best snowboarder for years to come. He's moved mountains with his intricate flips and inspired many kids to pick up a snowboard. While it's sad to see him hang up his medals for good, he's paved the way for generations of snowboarders to come.