Balogun Siblings Bond Through Basketball and Beyond
Tami and Tobi Balogun are siblings here at AFHS and are some of Agua Fria's best and brightest not only as individuals, but as a dynamic duo where they have made a huge impact on the school. 
From Varsity sports to student council and even thriving in academics, these two will leave a lasting impact on Agua Fria High School for many years to come.
Tobi Balogun is a senior here at AFHS and has been an important part of our basketball program since his freshman year. He has played basketball since he was 10 years old and played varsity all 4 years. Tobi is also an AP and Honors student who works hard in the classroom as well as on the court. 
He is involved a lot here at the school. Tobi is in Student Council for his second year and is also playing men's volleyball for the first time this year. Many people look up to Tobi in sports as he puts in the work and is a great leader. 
"My favorite thing is the fact that it's so simple and fun at the same time," Tobi said. "It's also very satisfying when you master a skill." 
Tobi had a great basketball season this year and had lots of fun with the rest of the team. For him, the highlight of the season was their trip to Lake Havasu. He had fun on the bus ride over there and it was a great bonding experience for the team. And the win was of course a plus. 
"Basketball season was fun, I enjoyed playing with the boys and the competitive nature we played with," he said.
Tami is a sophomore here at Agua Fria and has played both varsity volleyball and basketball since her freshman year and is now on the track team for her first season. She's a three varsity sport athlete which is quite impressive because she's just a sophomore. 
Along with Tobi, she has also put in work both in class and on the court. Whether it's volleyball, basketball or now track, she thrives where she's at and is a great team player. Tami has played basketball for at least 7 years now and has developed a love for the sport ever since Tobi started showing her how to play in the backyard.
"I look up to him tremendously because he is the reason I started playing basketball…he started teaching me and I fell in love with the sport ever since," Tami said. 
Although these siblings don't play on the same team together, they have both helped to create a positive and inspiring atmosphere in the AFHS basketball program. The varsity women's team went 11-15 this season and men's went 8-17.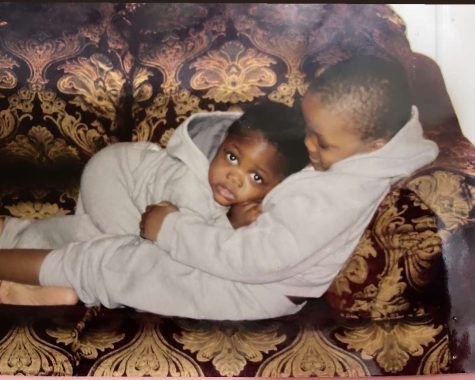 Both love playing basketball together because it gives them something in common that they bond over and it has brought them so much closer as siblings. They love being able to learn from each other and practice together while still having fun.
"We can ask for help or advice if there's something we don't get and we can relate a lot in the classes we have and the sports we play together," Tami said. 
In Student Council, both individuals have done so much for the student body with their hard work and time in StuCo. As class representatives they do their best to plan and execute events here at Agua Fria, such as Homecoming week, Frosty Fest and so much more. 
It's not easy maintaining good grades, extra-curricular activities and still be some of the best players on the court but both Tobi and Tami have done just that.
"We sometimes work out with each other and push each other to become better," Tobi said. Tami and Tobi have both pushed each other to be better and support each other in many aspects of their lives. Basketball especially. 
Both have had a lasting impact on all the teams they played on and AFHS sports has been lucky to have them. Tami went to playoffs with varsity last year and Tobi has led the men's basketball team as captain this past season. 
I have had the pleasure to know both as individuals and can say first hand that they are some of the best people I know. Although Tobi is graduating this year, Tami will still carry on the Balogun legacy that they have worked hard to create.