Tom Brady Retires After 22 Seasons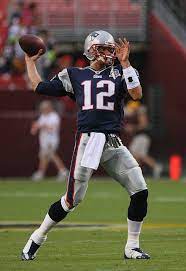 Tom Brady's career has officially come to an end. 
The legendary quarterback is retiring from the NFL after 22 seasons. If you didn't know, Tom Brady, aka Thomas Edward Patrick Brady Jr., is an NFL quarterback who led his teams to a record of seven victorious Super Bowls. As mentioned in the article from Talk of Fame Network, "Tom Brady's impact was best measured in goosebumps," and was named one of the Super Bowl MVP a record five times.   
His retirement was announced on February 1, 2022, in the article shown on the NFL website. After many rumors, Brady finally decided to talk for himself on social media via Instagram as he said, "I have always believed the sport of football is an all-in position. If a 100% competitive commitment isn't there, you won't succeed and success is what I love so much about our game." 
In his retirement post, he gives special thanks to his wife, children, parents, coaches, and agents. In his announcement, he also mentions his plans for the future are a "work in progress" and wrote personal and team accomplishments. 
Brady said, "I have loved my NFL career and now it is time to focus my time and energy on other things that require my attention." As he referenced in his statement, it's the time for him to step back and require the attention he wants, other than football. He is walking away from the game he dominated for over two decades.
Brady steps away from the sport after winning seven Super Bowls and setting a bevy of league passing records. He is the all time leader in passing yards, touchdowns, and completions. Brady's career is something amazing, as he is arguably the greatest player ever and has established a huge fan base behind him.
His retirement is based on several factors, including family and health. Many fans and other people say his retirement is based on force and other speculations but Brady is happy with his decision to retire and is looking forward to "doing things other than playing football," as he mentioned in his retirement post. 
Brady made everyone around him better and always seemed to rise to the occasion on the biggest moments. His records along with championships set a standard that players will chase for years.
"Brady's legacy is that he just played quarterback better than anyone else and made what I think is the toughest position in sports almost look easy," said Ernie Accors in the article from Health to Wealth, who in particular was a general manager of three NFL Franchises. 
NFL Commissioner Roger Godell also had kind words to say about Brady's career.
"He inspired fans in New England, Tampa, and around the world with one of the greatest careers in NFL history," Godell said in a statement. "It has been a privilege to watch him compete and have him in the NFL. We thank him for his many contributions to our game and wish Tom and his family all the best in the future." 
Furthermore, Tam Bay Buccaneers coach Bruce Arians said on Twitter, "Tom joined us as the greatest football player of all time, and he quickly showed everyone in our organization what that meant. He set a standard and helped create a culture that took our team to the mountaintop. It has been an honor to be his head coach for the past two seasons." 
Tom Brady will be remembered as one of the greatest to ever play in the NFL. He was an incredible competitor and leader, as he displayed year after year.