Chloe Kim Earns Second Gold Medal
In the 2022 Winter Olympics, USA Team snowboarder Chloe Kim won the gold for the second time in the halfpipe. She became the first young female woman to win two gold medals in halfpipe at the age of 21 in the Olympics Beijing 2022. 
 Kim's score of 94.00 put her in the top spot at Genting Snow Park in Zhangjiakou. She remained there for the rest of the competition. That didn't stop her from pushing even harder on her final two runs. Although Kim fell on her second run, being ahead of her third run meant that she had secured gold before her final run. But, Kim still went for it after she fell.    
"I am so proud of myself and I'm so grateful for everyone that supported me, even when I decided to take time off to go to school," Kim said. "I mean, it just meant the world… I really think if it weren't for everyone supporting me, I wouldn't be here with another gold medal."
She is a six-time X Games gold medalist and the first woman to win two gold medals in snowboarding at the Winter Youth Olympic Games. At this time, Kim still continues her dominance on the halfpipe.
American snowboarder Kim became an instant star at the 2018 Winter Olympics when she became the youngest woman to win an Olympic snowboarding gold medal. At just 17 she took home gold in the women's snowboard halfpipe. Since then, she has become an athlete to watch and love.
The champion claimed her second gold medal on Thursday, February 10, 2022, in the Beijing Olympics becoming the first youngest female to ever win two gold medals in halfpipe in the women's event, she is someone to be inspired by.
Everyone seemed to be amazed by Chloe Kim when she was a snowboarding prodigy on her way to an Olympic gold medal shown in the article from glamour.com.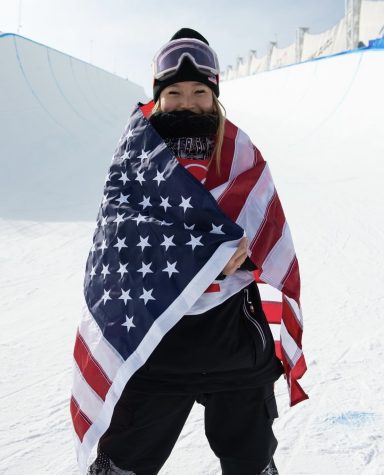 Chloe Kim secured the gold medal in the women's halfpipe with her very first run at the Beijing Winter Olympics on Thursday and made history in the process not only, but showed inspiration and encouragement to her fans. In July 2018, she was awarded three ESPN awards for Best Female Athlete, Best Olympian, and Best Female Action Sports Athlete; she was also included in Time magazine's 100 most influential people of 2018.
Despite her gold medal win, Kim appeared to be just a little disappointed with her performance. "I hit my face so hard," she could be heard saying after her show. 
Freestyle skier Eileen Gu congratulated her on an Instagram story, saying, "Did it again!! So proud to have you as a friend, inspo and sister all in one," according to the article from olympics.com. 
For now, Kim's plans for Beijing include unveiling three new tricks. 
"I'm so excited," she said in the article hollywoodlife.com. "They're an upgrade from everything I've done." She won't say anything more, however, it is understandable.
Kim spoke about expectations when asked more generally about the Winter Games.
 "Don't have too many expectations," she said. "Just let me vibe. I'm just trying to chill." 
"No, I'm just kidding. You just expect a lot out of me. I'm going to go off."
Chloe Kim does not pause, she continues more than ever.