The Meaning Behind Tyler, the Creator's Best Albums
Have you ever been listening to Tyler, the Creator and wondered if his music had any deeper meaning to it? 
Well, it does. Tyler Gregory Okhama, famously known as Tyler, the Creator, started his career in 2009. Although his earliest albums are quite questionable, Tyler's older albums are hurtful, and some people who remember those albums still don't like Tyler, which is valid. 
Some of the stuff he's said in his songs are hurtful. But his latest albums are more deep and melodious.
Sometimes I question what his music really signifies, or even who it's about, because it's very relatable. Two perfect examples are "Flower Boy" and "Igor," which will be the two albums I will be taking a deeper dive into a few of the songs on those albums.
Flower Boy was released on July 21, 2017.  The title of the album directly correlates to the whole album, along with the album cover, on which a flower sprouts and becomes something beautiful. With this album, Tyler sings about how much he has grown.
"Where This Flower Blooms" is a great metaphor. In the lyrics Tyler compares himself to a flower, to show how much he has progressed. One of the lyrics even is, "Makin' leaves, keep it in my branches family could eat," which is an allusion to show how much wealth his career has granted him. 
"See You Again" is more like a lovey-dovey song, using cheesy lines like, "Do you look both ways before you cross my mind." The meaning of this song is that his lover only appears in his dreams, and his feeling of infatuation is starting to feel like love to Tyler.
In the album "Igor," Tyler's music is about falling in love with a certain love interest. People all over social media have speculated it to be Wyatt Navarrow.
Although Tyler never said it publicly, there are a lot of pictures of them together hanging out. However, Wyatt soon after got into a relationship and they haven't been spotted together since then. Currently, Wyatt is speculated to be single.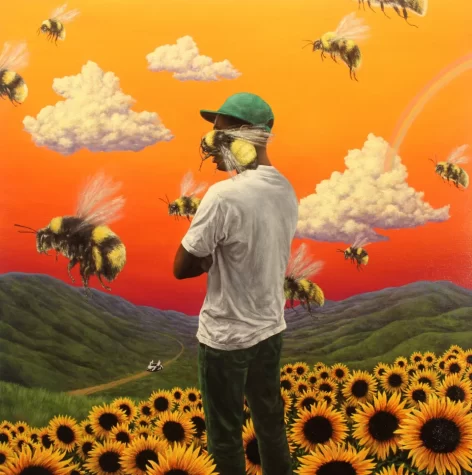 A personal favorite of mine is "I Think." In "Earthquake" we are introduced to a love interest of Tyler, which has a lot of heartbreak in it but just as much affection, but he is scared that his love interest will leave him. In "I Think" we are able to hear "I think" in the background which indicates that Tyler thinks he's falling in love with this person.
Along with thinking that he's falling in love, he's conflicted about the motive of this other person. "New Magic Wand" is another personal favorite of mine, in this song Tyler is singing about a girl who his love interest keeps dating, and it's messing his picture frame-up, but he can remove her like the photo editing tool, new magic wand.
In "Gone, Gone/ Thank you," Tyler reflects on the relationship between him, his love interest, and this other girl that his love interest keeps dating. He suggests that he is ready to get on with his life but not ready for a new relationship.
"I Don't Love You Anymore" is about him bouncing back, although in the previous track he says, "But I will never want to fall in love again." In this song he asks for his heart back, and that he won't be walking around with his head down.
The album ends with a track named "Are We Still Friends?" Tyler dreams of staying friends with this person, but that's all it is a dream, and he ends the song with "Don't get green skin, keep contact/Don't say, Goodbye, smell you later." 
This is him saying be nice, don't be petty.