Zendaya and Tom Holland Pregnant with Octuplets
Growing up on the nostalgic TV show 'Shake It Up' with Rocky Blue, seeing Anne Wheeler on 'The Greatest Showman,' the famous MJ in the new 'Spiderman' trilogy, and now as Rue Bennet on 'Euphoria,' Zendaya Maree Stoermer Coleman, the woman millions of individuals love and adore, has recently confirmed her surprising pregnancy, but not just any pregnancy, octuplets.
Four weeks pregnant, Zendaya shared the news on April 1, 2022, on her Instagram and Twitter with a small and sweet caption acknowledging her boyfriend, Tom Holland, and her best friend, Hunter Schafer, saying, "I'm so very grateful to share my life with Tom Holland and I am even more thankful for this new chapter in our lives. I wanted to share this moment with the soon-to-be godmother, Boobie, my Hunter <3." 
The sweet nickname is something Zendaya uses with her close friend Hunter and highlights a heartfelt moment. The rest of the lengthy caption details the love she holds for Tom and Hunter as well as the excitement she holds for motherhood.
Along with the adorable caption, a video was posted of Zendaya, her close friend Hunter Schafer, and Tom Holland celebrating the big news at her home in Los Angeles.
The video was a short two-minute clip of Tom Holland and Zendaya leaving Hunter in shock when they gifted Hunter a painting of a woman surrounded by eight children because she is well known for her love of art. The art piece named 'Godmother' along with a vague note on how well she will be as one brought Hunter to a realization after a few seconds as the news hit her. Zendaya was pregnant with eight babies.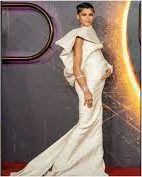 Hunter was shocked but quickly revealed her thoughts after she'd realized.
"Oh my god! Oh my god! Oh my god, Z! Are you serious? Oh my god, I'm so happy for you. I love you," Hunter said.
Zendaya voiced her excited thoughts just after the three shared a hug and spilled a few tears.
"I love you too. Thank you, love," Zendaya said.
Even before the actual confirmation, many suspected Zendaya has had a bun in the over for quite some time now. Seen around her city and with Tom Holland often in baggy clothes, many assumed her pregnancy and now we can confirm. Zendaya has been seen around Alta Bates Summit Medical Center twice over the course of two weeks and the suspicions overwhelmed the media.
In My Time's article, they asked Zendaya how she was feeling after she'd been seen outside her favorite restaurant in Oakland and her words held an underlying meaning after exiting the diner. Questioning how Zendaya was doing, the reporter Matthew Nelson, captured her comment on film.
"I'm doing really well. I'm happy to be where I am now and I can't wait to share some big news with the people I love the most: family, friends, and my fans," Zendaya said.
Hopefully, we get more news on Zendaya's beautiful surprise to the world and the fans wish her well and send love her way. Maybe, just maybe, baby Coleman-Holland one through eight is born on April 1st.
APRIL FOOLS'!