Freddie Freeman is No Longer a Brave
Freddie Freeman, former Atlanta Braves loyal first baseman, signed to the Los Angeles Dodgers on March 18, 2022, making it his very first time playing for another team in his MLB career. It felt like the divorce of a seemingly happy couple. 
Freeman made his Major League debut in 2010, playing first base for the Atlanta Braves. He stayed with the Braves for 12 seasons and 15 years, winning five All-Star awards, a Gold Glove award, a Babe Ruth award, and was named MVP during his time with the Braves. 
After his victorious 2021 season and a World Series win, it was pretty clear Freeman would sign with Atlanta for a new season, but with one tweet that all changed. 
"Welcome Freddie Freeman, we've been waiting for you," tweeted the Los Angeles Dodgers, confirming Freeman's signing with the team. 
After Freeman's desire to be a lifer to the Braves and wanting to remain there for his entire career, questions surfaced on why the change was made. 
2021 was the year Freeman's contract expired. Atlanta offered him a new contract, which was five years and $125 million. Freeman declined, making him a free agent. During the offseason, the Braves extended their offer, upping it to five years and $140 million. That wasn't enough — Freeman and his agent wanted six years instead of five. 
According to multiple sources, over the year, Freeman and his agency were in talks with Braves GM Alex Anthopoulos and nothing was coming of it. One final offer was made by Freeman's agent and it expired the same day. When no agreement was reached, Atlanta pulled their offer off the table, and acquired Oakland's first baseman Matt Olson, closing Freeman's future as an Atlanta Brave. 
After many offers from different teams, Freeman decided to return home to Southern California and sign a $162 million, six-year contract with the Los Angeles Dodgers. 
Atlanta signed Matt Olson to an eight-year deal, worth $168 million dollars. Essentially they signed a younger player to a cheaper deal for a longer time.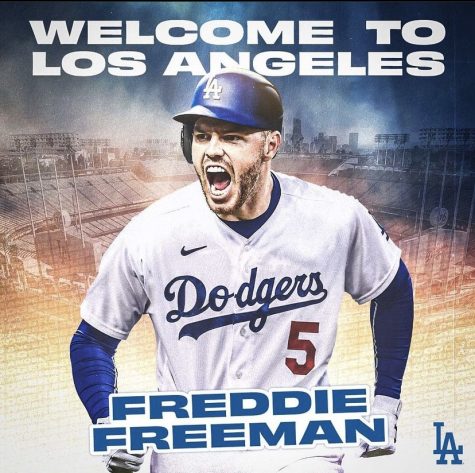 Immediately when news broke, players poured their support and love for Freeman and the Dodgers. 
"They've always had unbelievable players," said Braves outfielder Adam Duvall. "Obviously when you add a type of player like Freddie, you're going to get better." 
Freeman penned a tearful goodbye to the Braves in an Instagram post. "It has been a blast to have you cheer for me and I hope I was able to bring smiles to a lot of your homes over the years," he wrote. "Although our time has come to an end, I look forward to seeing and playing in front of you all again." 
For his first spring training game as a Dodger, first time up to bat, Freeman knocked it out of the park, scoring a home run. The crowd erupted chanting, "Freddie! Freddie!" He's stating his place in LA and showing he's there to win. 
Freddie has been a force to be reckoned with since he first stepped onto the field, either as a Brave or a Dodger. It may be weird to see him in Dodger blue, but he's still the same Freddie Freeman that we've watched grow as a player over the years and can't wait to see him capture another World Series win.