The Legacy of Dwayne Haskins
 Dwayne Haskins, a professional football player who played for the Washington Redskins and more recently the Pittsburgh Steelers, unfortunately passed away at the age of 24 on April 9, 2022, after a tragic series of events. He was an inspiration to all who watched him play and will be greatly missed. 
Haskins was struck by a car in South Florida.
"We have had such an overwhelming outpouring of love for our son since the news broke of our loss," Haskins parents said. 
Before going pro, Dwayne Haskins played football in college at Ohio State starting in 2016. Although he redshirted his first season, Haskins had an impressive sophomore year. He finished that season with impressive stats; completing 40 of 57 passes, with a dominating 565 yards and 4 touchdowns. 
He set many school records and was even one of seven NCAA quarterbacks to ever mark more than 4,000 passing yards and throw 50 touchdowns in one season. Haskis started getting a lot of attention and prospects after he had this impressive season. 
In the future season, he set many school records after gaining more than 4,900 yards, and threw more than 225 passing yards during the 2018 season. During the 2018 Big Ten Championship Game he threw 500 yards and 5 touchdowns during the game. Haskins also threw three touchdowns in the 2019 Rose Bowl. After both of these amazing performances he was awarded MVP.
Dwayne Haskins was able to accomplish all of this before even reaching the NFL. He was an impressive player who showed great commitment and respect both on and off the field. He showed commitment in the classroom as well, as he was a journalism major and had a heart for sharing things that mattered.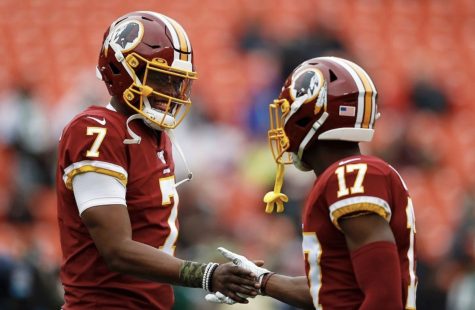 Entering into the NFL, Haskins' number was retired by the Redskins honoring quarterback Joe Theismann. However, Haskins was able to get permission to wear number 7 and honor Theismann in that way. 
Haskins only played 2 seasons in the NFL and was making a name for himself in the league. Although his time in the league was cut short, the time he spent playing football showed honor and respect in all aspects of his life. 
Haskins had a heart for other people and was always doing what he could to improve the lives of those around him. One of his passions outside of school and football was clothing. He had his own clothing line, Kingdom of Pride. 
His clothing brand was all about family and "channeling your inner lion," which has been a part of Haskins' legacy since he made a name for himself. This clothing brand encourages kids and people to work hard, be themselves and to never ever give up, no matter what. 
Many young athletes have been inspired by Haskins and hope to one day be in a position like he was where he played the sport he loved and continued every day to be an amazing example for the people that watched him play.
Haskins' family was so important to him. He married Kalabrya Haskins in 2021 and they had begun starting a life together. He will be missed by many including his wife, parents, teammates and coaches. 
Haskins was an inspiration to many but his close ones were the ones who knew him best. One of his close friends was Terry McLaurin who played football with him for many years. 
"His legacy on this earth will forever be felt because of the way he lived life and the way he impacted everyone he came in contact with," McLaurin said in an Instagram post. 
Haskins was a light in this world who wanted the best for not only himself but everyone around him. He worked hard, played hard and it's a shame that his life was cut short. 
Although, because of all these things he will not be forgotten. His legacy will shine through the players he bettered, the people inspired and the family he cared for.