Why You Should Watch 'Our Flag Means Death'
AAAARRGGHH! There's a new show sailing across HBOMax from television writer David Jenkins called 'Our Flag Means Death.' 
If you have never heard of the show before, it's a historical retelling of an 18th century pirate named Stede Bonnet, played by New Zealand actor Rhys Darby. Not only is it a period piece, it's also a semi-dark comedy. Yes, you heard that right. A comedy pirate show. But it's not just any ole comedy pirate show, it is also a heartfelt drama with very compelling characters.
The show consists of 10 episodes following the same pirate ship full of a ruthless crew, and Stede Bonnet who used to be a posh aristocrat and decided to give up his privileged life to become their brave yet clueless leader, and tries to gain their respect as they don't believe he's a good pirate captain.
Another standout character on this show is played by Academy Award winner and Emmy-nominated Taika Waititi as he plays "Blackbeard," history's most feared and revered pirate.
The show has gotten great reviews and feedback since its full release. Tasha Robinson, co-host of "The Next Picture Show" podcast, said on Pop Culture Happy Hour from NPR with Glen Weldon, "I love the show. I love what it's doing. The more I think about it and how well it's constructed, how thoughtfully it's constructed, the more I love it. But I have to admit, a lot of my fandom at this point is just coming out of watching how happy younger people are to see a version of themselves on screen that they've never seen before."
Aside from the show being hilarious and beautifully crafted it has also gotten praise for not queer-baiting, as it shows more than one queer relationship, the main one being between Stede Bonnet and Blackbeard. 
"Yeah, there certainly is," Glen Weldon from NPR says. "And I think, as you mentioned, the queerness is intrinsic to it. It is baked into the sensibility of the show. It is not played for laughs, really. I mean, it's actually played for depth, you know, for roundedness, for giving these characters a lived life. I — you know, personally, I'm always on the lookout for cynical queer bait, but this doesn't ping that meter at all." 
It's a sigh of relief for many people as queerbaiting has been used for various years in shows and movies to gain viewers from people in LGBTQ+ community who just want to see representation. The relationships don't need any interpretation as it is directly displayed on the screen nicely and this show has representation, it just takes place in a pirate comedy.
Not only does the show display queer relationships, it also mentions gender indenity as Vico Ortiz, who plays Jim, is non-binary just like their character.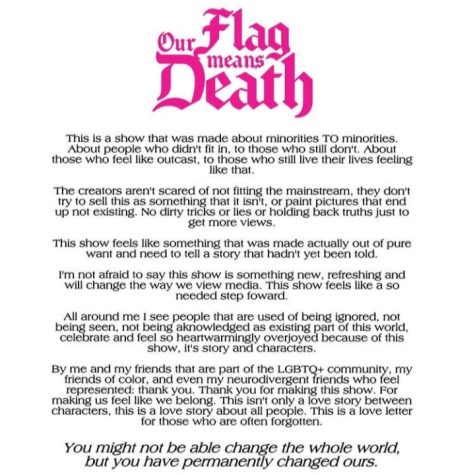 The cast also consists of Nathan Foad, Joel Fry, Con O'Neill, Matthew Maher, Samson Kayo, Samba Schutte, Kristian Nairn, David Fane, Ewen Bremner and Rory Kinnear who all give stellar performances. But one of the performances that really stands out the most is Taikai Watiti's, as audiences don't really see him in front of the camera, unless he's playing Viago from 'What We Do In The Shadows' or Hitler from 'Jojo Rabbit.' 
"He is a standout performance," Weldon said. "He's a standout presence. One of the things that people are definitely seizing on is his emotional performance towards the end of the show, which is very nuanced and very compelling."
Overall, the show is great from its production to storytelling and comes with a great message to it. The show had also ended with fans praying for it to get renewed due to it having a sort of cliffhanger. So if this show interests you, you should definitely watch it and understand what all the hype is about for this silly pirate show.