Makayla Price: The Softball and AVID Super Star
In the Owl Cafe here at Agua Fria, Makayla Price signed to play D2 softball at Glendale Community College. The ceremony was full of people who had supported Makayla throughout her four years of high school. She had a big smile on her face as she signed her commitment letter, from this day forth creating herself a bright future. 
Mrs. Daniels, Agua Fria's athletic director and vice principal, then proceeded to hand the microphone to Makayla to say a few words. 
"Firstly, I'd like to thank my mom for always believing in me. I would also like to thank my dad for buying everything I needed. It was not cheap," Makayla said as the crowd giggled. "I would also like to thank my coach for taking a chance on me, because, oof, the beginning was rough. He never doubted and helped me get better. He thrived to not only make me a better person but also a better athlete and I'd like to thank him and everyone who's supported me."
With playing softball at AFHS and on the club team Az Athletics, being a part of AVID, volunteering for NHS, and managing to keep straight As, Makayla has always had a lot on her plate. But she managed to keep up with all of it, making her a standout student at our school.
Makayla had been a part of AVID from the very beginning of her high school career, like many students at AFHS. AVID, for those who don't know, stands for Advancement Via Individual Determination and it's a class that assists students keeping up with their school work, staying organized and being college ready.
Makayla followed in the footsteps of her cousin and older sister. "My cousin was in AVID, and she told my sister about it, so my sister was in AVID," Makayla said. "And because she was in AVID it was a good opportunity for her so I thought it would be a good opportunity for me to join."
From the very beginning Makayla had always wanted to be a helping hand, assisting her AVID teacher Ms. Fowler any way she could. "So Makayla's been in AVID all four years and I remember the first day of freshman year, right away she was very wanting to be involved," Ms. Fowler said.
"Two years in a row she won the spirit of AVID award," Fowler continued. "Which is an award we give at the end of the year. And last year she got the AVID team captain award. So she might win one of those this year again, but that goes to show you, since her peers vote for her and I make the final decision, it shows that she is a leader not only in AVID but on campus as well."
Ms. Fowler had the same AVID class for four years, with kids leaving and joining throughout the years. But Ms. Fowler had the honor of being a mentor for Makayla four years in a row alongside other students.
Something that AVID added to Makayla's great experience at Agua Fria was the close friendships she built along the way. "It was definitely great growing with people you have a close relationship with since you've been with each other for 4 years," Makayla said. "Right now we mostly have the same class but we also all have some of the same classes too, so we end up spending a lot of time together." 
Her bond with her fellow AVID members is more than just students who happen to share the same classroom. 
"We just hang out," she said. "Like, a lot of us are not, like, just classmates, a lot of us are like really close friends. Like, outside of school we'll hang out or, like, someone will have an event and people from AVID will show up."
One of Makayla's greatest friends from AVID since freshman year would be Elisa Kinsey. 
"She made my high school experience fun," Elisa said. "You never know what she's going to say to make you laugh. She's also a good friend, and she's always gone above and beyond for me." 
Elisa left Makayla with some advice.
"If I could give Makayla advice for the future it would be to live the life you want," Elisa said. "You deserve to be happy doing whatever you want." 
Makayla has also done some hours of community service for AVID and National Honors Society. She is always willing to lend a helping hand to those in need and it has definitely taught her a lot about herself and people. 
"It's definitely given me a bigger crowd of people that I can talk to," Makayla said. "I know more people and it influences me to have a more broad perspective of people and how I see them. Because everyone's from different backgrounds so you can't just say, 'Oh, I'm not gonna talk to this person because I wasn't friends with them in middle school.' I gives you a new perspective of, 'I've never talked to this person before but maybe they're a great person once you get to know them.'"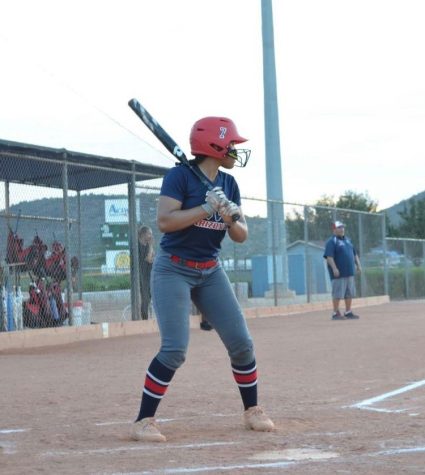 Aside from being involved in AVID and NHS, Makayla showed dedication to softball. When it comes to her skills on the field, you would think Makayla had been playing for a long time, but she actually only started playing her freshman year. 
She decided to try out for softball when the assistant coach encouraged her. Impressively, Makayla made our school's varsity team her sophomore year. Her main position is catcher, but she also plays middle infield and outfield.
Following playing softball in high school, Makayla also started playing for her club team, Az Athletics at the end of her sophomore year. With softball, extracurricular activities, and keeping up with her academics, Makayla managed to keep a balance. 
"What's impressive about Makayla is that she managed to be in AVID, NHS, AP and honors classes and varsity softball team and managed to keep straight As all of high school, so I think that is a standout thing for her as an athlete," Ms. Fowler said. "Some athletes only want to play that sport but aren't involved with the school. But she's everywhere, her name's everywhere, she's everywhere, she's doing a bunch of stuff."
If Makayla could go back in time and give her freshman self some advice, she said she would tell her to not have her goal set to one specific thing. "Keep your hopes and ambitions wider," Makayla said. "Because freshman year I said I wanted to go to the University of Texas. That did not happen. But because of that, after that plan fell through, I had nothing. I started over because I was so set on going to one college.
"It was the middle of junior year and I had no plan," she continued. "I didn't think I was gonna go to community college. It just came out of nowhere, but it seemed like the best opportunity because even when I maintained As and Bs throughout high school and even then I was not getting enough to pay for college. Like, a good amount would still have to come out of my pockets. This is kinda weird because I worked really hard throughout high school and I still have to pay to go."
Makayla didn't think she was going to attend community college in the end, but realized it was her best opportunity to start her new future. In addition to playing D2 softball at  Glendale Community College, she will be majoring in business to afterwards move onto a university and intern, and start a business of her own. 
Even when her plans fell through, she managed to get back on her feet and create a new plan in a short amount of time. That just tells you how determined Makayla can be.  
Makayla has such a bright personality that will help her make it through softball, college and life in general. 
For a final few words, Makayla wanted to say, "I want to shout out my AVID class for being the best class and family that I've probably been a part of. They're very open and welcoming and I wouldn't ask for a better group of people to spend every day with."
Moving into the future, there is no way Makayla isn't ready, but her journey is just beginning.