Demitri Davis: Through Devotion Comes Admiration
You feel the cool breeze in the air. It allows you to let loose and have one goal in mind, which is to be the best person you can possibly be. 
In the case of track and field, Agua Fria's very own senior Demitri Davis lines up and faces forward. Once you hear the starting pistol, you accelerate at an unimaginable level, creating an atmosphere filled with determination and admiration. 
Demitri has done exactly that, so much so that he will remain in the Agua Fria history as number two in the school for the 800 meters with a time of 1:57.12. 
For Demitri his ambition throughout his four years at Agua Fria was to be one of the best runners the school has ever witnessed, creating a culture that is built on the foundation of success more than anything. 
Aspects of Demitri's character are best described as "risky, funny, charismatic and above all else, an achiever," said longtime friend Dakota Thatcher, a senior at Agua Fria High School. "Even though he's one of the fastest people I've ever met, he doesn't make it part of his personality." 
Demitri's mindset throughout his high school career was to be composed and sensible regarding the situation and to never let his emotions determine the outcome in any given circumstance. 
Ensuring that Demitri had the right environment to achieve such strides were Cross Country Coach Haubenstricker and Track and Field Coach Espinoza. 
"He has one job when it comes to practice and that's to do the best he can, one agenda, just grind," Coach Haubenstricker said. 
The atmosphere for such an event is best described as a mix of enthusiasm from the runners and energy from the crowd of students and parents.
Each of them want their sons or daughters to be the crème de la crème as they're seen lining up to their positions, trying to be the finest runner on the track. 
"He's so self-driven, he's not pressured by others, not pressured by a specific scholarship," Coach Haubenstricker said. "He simply wants to be the best he can be and is something he's happy with." 
You tend to root for your school when it comes to these events, but it's more of a collective achievement for all the athletes involved. They're seen as the best the school has. They put their heart on the line, literally,
It is best said that somewhere in the world someone is training when you are not. When you race them, they'll win.
At the beginning of Demitri's freshman year he began to make an impression on the cross country team, making varsity that same year.
"One of those things was to keep working hard, maybe you'll reach varsity at some point next year," Coach Haubenstricker said. "Three or four meets later he just took off…became one of the top runners all in his freshman season."
All four years at Agua Fria, Demitri has devoted himself to the skill set of being the most athletic runner the school has ever witnessed. 
He found himself constantly achieving the next P.R. regarding both cross country and track and field, keeping himself level headed and concentrating on the task at hand without any feelings of discouragement or doubt in his mind.
"Every day you're not questioning whether or not he's feeling the workout," Coach Haubenstricker said. "You know every day he's going to give you the best he has."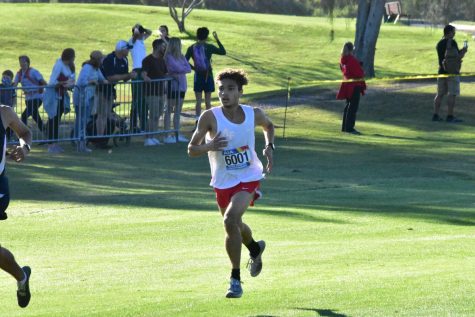 On April 27, 2022, Demitri ran his last ever meet at Agua Fria. He has already accomplished enough with his stay at Agua Fria, for him to still continue on and strive for more was enthralling.
"It was kinda indifferent, because in my mind it doesn't matter where I run it just matters what race it is," Demitri said. "Yeah my last district meet was pretty interesting but I don't have any strong feelings, my season isn't over just yet."
Demitri, alongside with his teammates at both Cross Country and Track and Field, was able to create a culture of both achievement and motivation.
As Demitri prepares to graduate within the next week, he brought both programs to its prime form, in which many underclassmen will acknowledge years to come, especially with his younger brother Hani Davis.
"Haven't given him much advice, I like to leave it up to him because I just give out advice in general," Demitri said. "Whether it is my brother or a random freshman, because I want everyone to grow in their way, just to be aggressive and don't let other people bring you down."
Demitri is in every sense of the word dedicated. Every day he strives for success no matter what stands in front of him.
Although this will be the last time we'll see Demitri in the red and white tracksuit, he has left behind a positive impact on this school which will echo for years to come.