Alicia Maruffo: A Strong Legacy in the Wake of a Beautiful Future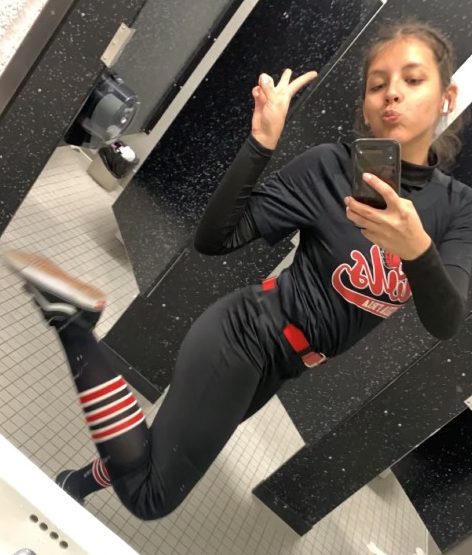 When Alicia Maruffo steps up to bat, the whole opposing team backs up. The infielders are expecting a hard-hit ground ball straight to them and the outfielders hoping it doesn't go over their heads. 
Alicia was a student-athlete for all four years of high school and was the first baseman and sometimes second for the Lady Owls softball team.
She has been a very successful student, finishing top ten in the class. She is also a committed and dedicated AVID student who has devoted herself for four years. AVID has taught her to be a leader and has helped prepare her for her future in many ways.
"It helped me prepare for college and my senior year and helped me prepare for the real things in life, like taxes," Alicia said. "And Ms. Fowler was always there to help me if I had a question." 
She's also had a terrific run at softball. She's made so many memorable moments over the years and made new friends along the way. 
"I really liked softball once I started and got comfortable and started to improve, I made many great friends and memories," Alicia said. "My first three years were great. Unfortunately, my last year of softball was, to say the least, not what I hoped for." 
She's had a successful career as a high school student having all A's and B's throughout and qualifying for the Lumberjack Scholarship, giving her a full ride to NAU to study dental hygiene. This makes sense because she has such an affectionate and beautiful shiny white smile every time she opens her mouth.
Alicia had ups and downs this year and that's what made her stronger as a person. Senior year is a very important year because you're just one step away from the finish line and onto the next race…life. It can be scary thinking about the things that you have to do alone because our whole lives our parents have been there to care and guide us through our life and now we can't rely on them as much anymore. 
Alicia, like any other graduating student, will soon become an adult that has to pay bills, start doing taxes, make food herself, and more. It's a hard transition for us, teenagers.
"My senior year has been pretty rough," she said. "A lot of personal problems at home have heavily affected me but I realize I can't stop everything else if I want to be in a better situation. There's been lots of ups and downs in my senior year but I still cherish the good times and continue to move during hard times."
One of the many teachers that impacted her and many students across Agua Fria is one of the sweetest, dearest people on campus, Ms. Fowler. For Ms. Fowler, Alicia was an amazing student to have in the class. 
"[She] has always been consistent in her passions and education," Ms. Fowler said. "She always delivers and is such a strong student academically and athletically. If anything, she has always been good but just keeps getting better and better!"
Being an AVID student is being one of the leaders at Agua Fria High School. When it comes to being a strong leader, Alicia is the one for the job. She brings "leadership, consistently, and inspiration," according to Ms. Fowler. "She keeps everyone in line." 
While knowing Alicia for four years, Ms. Fowler has noticed many beautiful qualities about her that make her unique. "Her ability to always think ahead, be there for others, and exceed in all she does," Ms. Fowler lists off.
Alicia has so many amazing traits that make her such a beautiful person inside and out and she has a really bright future ahead of her.
Playing softball with Alicia for four years definitely was one of my highlights for my high school experience. Alica was my throwing partner and we had so many laughs, good and bad throws to each other, fun joyrides after practice and bonding over softball experiences. 
She definitely kept me sane for all four years, being that softball is a mentally and physically challenging sport and we both made sure we had each other's backs no matter what happened. I would say she is definitely my favorite softball sister/mother because she always took care of me and braided my hair.
We all can't wait to see what Alicia does in the future and we all know she is destined for greatness. Graduating and finishing off top ten in her class, Alicia has had an incredible ride at Agua Fria High School. She's made many new friends along the way and incredible memories she will cherish forever.
It's amazing to see Alicia be such a hard worker while balancing work, family, and school, all while maintaining her outstanding grades. Alicia Maruffo, we will all miss you next year, you always strive for greatness and you let nothing stand in your way. 
I don't want to say goodbye to our star student, favorite athlete, and greatest friend, so instead, I'll say, "Until next time."