Lizbette Martinez: Spreading Love to the Community
Since she was a little girl she she always kept the idea of determination. It is waking up every day even when she's not feeling it, putting in 110% effort into the things that she loves and into her future. Late nights, stressing if any of her hard work is worth it. With a long way still to go, but with so much accomplished, Lizbette Martinez has a bright future ahead of her. 
"She is always so motivated even when she is not, she still has the will to do things," said Rebecca Rodriguez, a very close friend of Lizbette's. 
From the West Valley in Arizona, Martinez has impacted her community and her loved ones in the most positive way she can. 
She does this in the best way possible, as part of Interact Club at Agua Fria, where she serves as president. The club is "based on volunteering, which ever since I was in middle school, that was something that I enjoyed doing," Lizbette said. "I loved being part of the community and it's just that. I wanted to find a club in high school that I would enjoy. Like they talked about food banks, clean-ups, helping other students, those in need for items like Crutches For Africa."
As she takes on a new year with all of us returning, Lizbette describes her time as, "Honestly I think being in the club and as president was a great experience" she said.  
After coming back from a treacherous year of online school, it was a new and different start for all of us on campus, "We lost a lot of members, so then gaining momentum for the club, getting new people to join and to be just as excited as we once were, it was a good challenging experience for me, but still fun," she said.
"I know that you guys have a lot of stuff on hand, especially Lizbette, and still handle it really well" said Interact Club's co-sponsor Hana Boscarino, science teacher here at Agua Fria.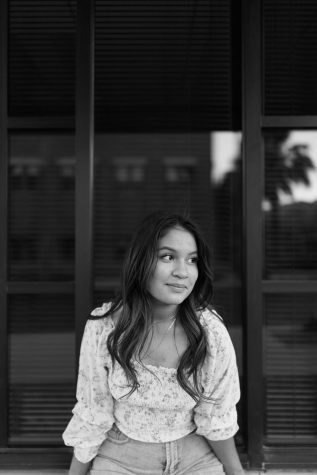 From setting up clothing drives, partnering up with Earth Club to attend park clean-ups and food banks, Lizbette efficiently sets up the club in her final year with great optimism. She is described to suit her role well. 
"Sometimes you have your peers that are high achievers but not very personable, but she is very personable, very welcoming, caring towards people,"  Ms. Boscarino said. 
She is also currently part of their Youth Ministry Program at St. John Vianney Catholic Church, which she described as a time to lead teens closer to their faith, while also getting to build relationships and give back to the community. 
She also loves to help around our local church. "We have gone to pray for departed souls, to feed my starving children," Lizbette said. "We serve our church community with summer camp opportunities, and every Sunday I volunteer after mass as a gift shop clerk."  
She added: "I think I have a very strong relationship with my faith, it has definitely helped keep me going through this very difficult transition…and showed me a purpose for the things I do for the community."
She also works towards her future by working a part time job as a barista at a local coffee shop, Modern Grind. Lizbette feels very drawn towards her job, as she describes it to be very "community- oriented" and aligns with her views of giving back to the community.
She loves working there as she has created a family in her workspace. 
"All the employees have a very good relationship with each other, it's not just one co-worker, but we are all family there, you know," Lizbette said. 
Lizbette sets a great example to her peers and radiates kindness and positivity towards her community. She is a standout for how much she is able to handle on her plate. 
"Students are a lot more resilient than given credit for and can balance a lot of stuff at one time,"  Ms. Boscarino said. 
Her plan after graduation is to attend college at ASU to pursue graphic design and minor in psychology. 
"I enjoy editing, I really enjoy graphic design, I create graphics for my church and for my work, and something I like to do for fun as well," Lizbette said.
Her close friends and peers see her living and completing a wonderful journey ahead of her,  "and still being able to help her community in any way she can," said Rodriguez. 
She spreads lots of wisdom and kindness to those around her and she can be learned from in so many ways. It is an honor to get to write her experiences and portray parts of who she is. She takes on a new chapter in her life and will pursue her goals without any doubt or hesitation because she proves to drive herself enough to success.