Inflation Continues Its Rise in US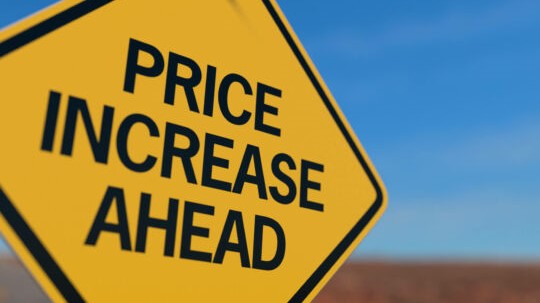 Everything has gone up in prices, from gasoline to even food! In the early months of 2022, the price of things has gone up. In more recent events the conflict in Russia and Ukraine has affected the US market. However, the aftermath of Covid-19 made prices of essential things go up.
In the United States, inflation has been a normal thing. Every year the US inflation rate rises or lowers. Macrotrends.net reports that in 2020 inflation rates were at 1.23%. However, in 2022 the CPI (Consumer Price Index) rates skyrocketed going up to 7.9%. 
CNBC economy news reporter Jeff Cox says, "the consumer price index, which measures a wide-ranging basket of goods and services, increased 7.9% over the past 12 months, a fresh 40-year high for the closely followed gauge, according to the Labor Department's Bureau of Labor Statistics."
What caused inflation to rise? Covid-19 was the main component for gas prices to rise in 2022. In March 2020, Covid-19 made people stay home and do less driving, making the gas prices average $1.93 per gallon in April 2020. However, as vaccines are more accessible and mandates are being lifted. People feel safer going out more, which makes the demand for gas rise. "By March 2021, the average per-gallon price for gas stood at $2.82, an increase of 45% from its pandemic low," said Aimee Picchi, a CBS news reporter.
The conflict between Russia and Ukraine hasn't hurt the US as badly as other places in the world. The US doesn't rely on Russian oil that much. However, the conflict still affects the US in some parts. 
"Wheat prices have jumped more than 55% since the week before the invasion. Oil prices, which had been steadily rising since the start of the year due to demand from a recovering global economy, soared past $110 a barrel for the first time since 2013," said  Joshua Goodman, a reporter from usnews.com.
Food prices have gone up as well. Ben Popken, Joe Murphy, and Robin Muccari are NBC News reporters, and this is what they had to say, "the Federal Reserve has said prices have accelerated and are expected to keep rising. Input costs are up, especially in food and fuel, which pressures grocery prices. Supply chain disruptions and weather also play a role."
President Joe Biden has been open about inflation which is something that he is trying to minimize. At Joe Biden's state of the union speech he brings up inflation stating there are "too many families are struggling to keep up with their bills." Biden noted that soaring costs are keeping workers from reaping the benefits of the strong labor market and rising wages. "I get it. That's why my top priority is getting prices under control." Anneken Tappe a CNN reporter, quotes Joe Biden.
What have other elected officials done to help? In many states, Gonverneres are helping their residents. For example, in the state of California, Governor Newsom Proposes $11 Billion Relief Package for Californians to help them with gas prices. According to CA.gov, it states that "registered vehicle owners in California will be eligible for at least $400 per vehicle, totaling $9 billion in direct payments to millions of Californians."
In Maine, the governor wants to push out a bill to help its tax-paying residents. ABC News Patrick Whittle said "A proposal from Maine Gov. Janet Mills is among the most generous in a state where the cost of food and fuel has skyrocketed in recent months. The Democratic governor wants to send $850 to most residents as part of the state's budget bill."
It's too soon into the year to know if inflation will rise or lower. However, with the current rates of inflation, we could only expect it to rise.