Sarah Palin Endorses Donald Trump
By Miranda Cavada
Follow me on Twitter @owlfeedmiranda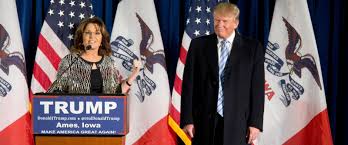 Sarah Palin, 2008 vice-presidential candidate and former Alaska governor, has recently endorsed Donald Trump as the 2016 presidential nominee. Her support for him grabbed Iowa's attention, as Iowa is one of the first states that will host its primary.
"Are you ready for the leader to make America great again?" Palin said during the rally at Iowa State University. "Are you ready to stump for Trump?" Because she is an important figure in the Republican party, this might pull in the support of many Republicans who originally opposed Trump. Mr. Trump took her endorsement very well. He believes it will draw numerous amounts of Iowa voters towards his side.
Mrs. Palin and Mr. Trump are not the best of friends, but they are acquaintances, as they have met in the past, growing quite fond of each other. While working with Arizona Senator John McCain in the 2008 presidential election as his vice-presidential running mate, Palin received the support of many Republicans. This could possibly help Donald Trump become the presidential candidate, or possibly even win the election.
With Ted Cruz ahead in the campaign, Palin's support for Trump will surely be an important factor in the race.