Late 90's and Early 2000's Fashion Making a Comeback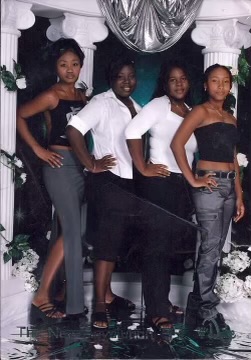 Baggy jeans, cargo pants, Juicy Couture tracksuits, low-rise jeans, mini purses, 3x t-shirts, and oversized clothing are just some examples of late 90's and early 2000's fashion. In the late 90's and early 2000's, fashion was "taking over", according to the 2000's hip hop artist Juvenile. This still holds today as the late 90's and early 2000's fashion is making one of the biggest comebacks in 21st-century history.
The 90's and 2000's fashion, also known as  'Y2k fashion', is a mixture of loud and bright colors, wide-leg and boot-cut jeans just to name a few. Although, it wasn't just about fashion, it was also about movies, music, hair, and makeup. It was like the more you wore and dressed up, the more you let everyone know you were a force to be reckoned with.
Y2K fashion was the time of experimental fashion. People were trying all these different colors and patterns, trying out different ways to wear specific clothing like a baby tee with a cute bralette or a dress with jeans. This is a nostalgic era for many people especially if they were teens around that time. Due to the internet, Gen Z made the Y2K fashion come back bigger than ever before.
Y2K was started in the inner cities across the nation and brought to the forefront by celebrity rappers such as Lil Kim, Missy Elliot, and Nelly, and also pop stars like Britney Spears,  Paris Hilton, Christina Aguilera, and Destiny's Child. As the years went on, the fashion industry was becoming more fashionable on TikTok and your city streets, even now, 20 years later. For example, during the late 90's and early 2000's, Baby Phat was probably one of the biggest fashion brands out there. From their bootcut jeans, baby tee tops, and their velour tracksuits with the diamond-studded kitten on the back. After a little hiatus, Baby Phat came back in 2019 in local malls and, just like in the late 90's and early 2000's, they flew off the shelves.
Overall, Y2k fashion is back! As I go through my mom's high school pics, I find myself thinking, "I have that shirt, I have jeans like that, oh and I have those shoes too!" and it makes me think of how fashion has come full circle. Someone once said, "good fashion never goes out of style…" and it's true and will forever be true no matter the era we are in. Fashion will never ever go out of style!