OPINION: The Best Treats for Christmas Time
What do you think of when you hear the word Christmas? You're probably thinking about the Christmas trees, the jolly music and of course the presents. But we're not gonna be talking about the presents, the decorated trees or the upbeat music played mainly during this month. Today we will be talking about the treats and sweets that are included during this holiday season. Everyone is different and has their own favorite bite, but based on personal opinions the best treats for this season are frosted sugar cookies, m and m cookies, gingerbread houses/men and of course hot chocolate.
Starting off with frosted sugar cookies, there are many different varieties of sugar cookies, there's different sizes, shapes and all kinds of designs. During the  holiday season grocery stores tend to sell Christmas themed cookies, whether it be candy cane shaped, decorated with red and white frosting , or even Christmas tree shaped ones, the list can go on. At some stores they even sell kits of blank cookies with frosting, and toppings, sometimes including a variety of different shapes such as snowmen, gingerbread men or snowflakes. A fun activity you can do with friends or family is decorate the cookies together, it's something enjoyable and worthwhile. They don't even need to be Christmas themed, plus you can take the pleasure of eating them once you're done!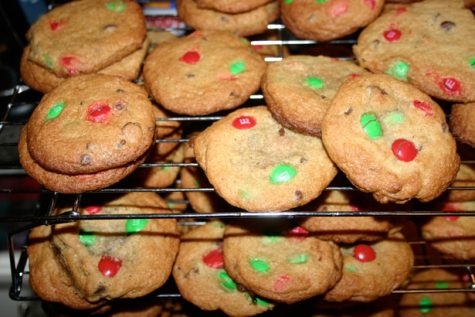 Moving onto the next treat, M and M cookies, these are incredible. This delicious treat can be found at local grocery stores as well, but you are more likely to find them easier during Christmas time. But you are more than welcome to bake them yourself if you'd like! These are actually quite easy to make, the recipe is simple and easy to understand. Ingredients you will need to bake this are 2 bowls, granulated sugar, brown sugar, butter, 1 egg, vanilla extract, flour, baking powder, baking soda, salt then lastly M and Ms of your choice and chocolate chips. Yes this may seem like a lot but it is worth it and isn't difficult to make at all! First what you need to do is get your bowls out and all your ingredients. Get ½ cup of granulated sugar ⅓  cup brown sugar and put it in the bowl, then add ½ cup unsalted butter. Mix it all together then add 1 egg and 2 teaspoons of vanilla extract. Now grab your second bowl and add 1 ½ all purpose flour, 1 teaspoon of baking soda, 1⁄2 teaspoon of baking soda, and  1⁄4 teaspoon of salt. Mix the ingredients of your second bowl together until it looks fine, then slowly mix it into your 1st bowl. After this mix in your M and M's of choice and chocolate chips, portions are up to you completely. Once you're done with this, preheat your oven to 350 F and scoop out your dough and form it into a sphere shape, size is up to you. Place your dough on the pan and put it in the oven. If you make smaller cookies let it bake 8-10 minutes, larger ones 9-11 minutes, you like your cookies crispier leave it on for an additional 2 minutes. Once done cooking take it out and let it cool down, after they won't absolutely burn your mouth you can now enjoy your cookies!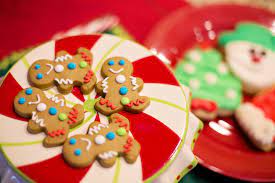 Lastly gingerbread houses and hot chocolate, gingerbread houses are best when doing it with someone whether it be friends or family. Making gingerbread houses can be done in different ways, you can be competitive and challenge someone to see who can make the best gingerbread house or you can do it just for fun with people. Not everyone is gonna look the same,which is one of the fun parts. You can see how everyone uniquely decorated their gingerbread house. Once you're done you can eat the house if you'd like, but make sure to take pictures to remember the moment! And while you eat your gingerbread house or others, or not eat the house at all, you can enjoy some hot chocolate and enjoy a movie or just relax!