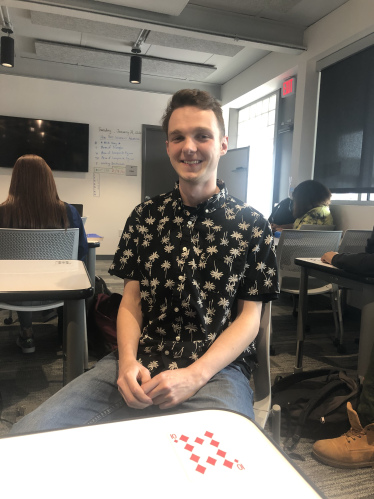 A new semester has just begun here at Agua Fria, bringing new faces into the world of journalism. This brought Ethan Hohbein and his imaginative, focused, and self-driven personality into the opinion section of OwlFeed.
Ethan is an 18-year-old senior that joined the class because he finds writing interesting and he's looking to improve his skills for the real world. "I felt like if I ever had to go into a news realm, that it would help with those kinds of skills and felt like it was a natural thing," he said.
Ethan loves news and is looking forward to this opportunity to have a role in journalism. The role that Ethan has taken is an opinion reporter. "Growing up I've experienced a lot of different things and have a pretty good educated guess about most issues," he said.
While Ethan was growing up he had to move a lot but loved to read and play sports in his free time.
When asked what his interests are, his main passions are theatre and playing video games. "I was at one point semi-professional in gaming and such," he said.
One of the two jobs he currently works at is a gaming company, where he helps them host events. He is big on games like Call of Duty, League of Legends and Star Wars.
While he loves his hobbies, Ethan loves how his moves from far states turned out great. The most significant moment that happened in his life, Ethan said, was "My dad getting a job offer and moving from North Dakota to New Mexico, then eventually to Arizona."
Ethan also loves horror movies and television shows with good details. "I like movies with good cinematography, and also think of the technical aspect like behind the scenes," he said. After high school, Ethan is trying to pursue his dream and get a degree in college for a theatre or film degree. He is also trying to improve constantly and "would want to have a job where I am going to be able to get up and meet people," he said.
When it comes to family, Ethan is an only child but has looked up to his step-father. He said that he improved his life a lot and would not be in the place where he is without him.
Ethan tries to be on top of everything and works a lot for his family. He wants to be as helpful as possible to return the favor on how they impacted his life.
When asked about his life he said he has two dogs. He was from Bismarck, North Dakota. He wishes he would have done theatre during his first few years of high school but is happy he is in the class now.
His advice to new people to high school is to not slack off and keep a strong work ethic. "Starting off from the beginning of high school is important and people struggle to bring it back up," he said.
With his amazing stories, kind acts, and his friendly aura, he has shown all throughout the interview that he is imaginative, driven, and a focused person. Meeting a person like Ethan is truly a fun experience.
By: Franklin Reyes
OwlFeed Journalist
Ethan Hohbein, OwlFeed Journalist
May 06, 2020

Kamille Sullivan's Never-Ending Enegry Brings Joy to Many

(Story)

May 04, 2020

Senior Goodbye: Do What You Love

(Story)

Apr 15, 2020

OPINION: Video Games Are the Best Way to Pass Time

(Story)

Mar 27, 2020

OPINION: Is Distance Learning Effective?

(Story)

Mar 06, 2020

OPINION: 5 Reasons You Should Be into Esports

(Story)

Feb 27, 2020

OPINION: Empty Classrooms — Arizona's Teacher Shortage

(Story)

Feb 24, 2020

OPINION: The Overreaction to the Coronavirus

(Story)