OPINION: The Corruption in Federation Internationale de Football Association (FIFA)
The Federation Internationale de Football Association was founded in 1904, to oversee international soccer games. The following nations were all involved at the beginning of FIFA: Belgium, Denmark, France, Netherlands, Spain, Sweden, and Switzerland. Under Robert Guerin, the 7 nations met in Paris to start FIFA. Under FIFA's guidance soccer has become the most popular sport in the world. Soccer has pretty much become FIFA. The famous soccer game FIFA is plainly named FIFA. us.soccer.com says, "the Federation's 2006 'Big Count,' the game is played by more than 150 million registered athletes — including 10 million women — and viewed by billions of fans in stadiums and on television worldwide".
FIFA's team members were split geographically into six confederations: Europe (UEFA), South America (CONMEBOL), North America, Central America, and the Caribbean (CONCACAF), Asia (AFC), Africa (CAF), and Oceania (OFC). First FIFA had its headquarters in Paris, which they then moved to Switzerland and expanded. With more and more countries joining the soccer tournament FIFA had 16, 24, and then 32 countries playing in the World Cup.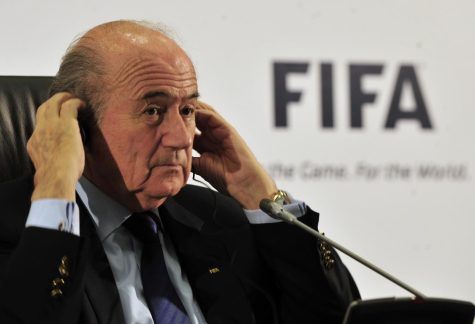 "A two-year ethics probe by former U.S. attorney Michael Garcia yielded a 350-page report that portrayed the organizational culture of FIFA to be founded on greed, secrecy, and corruption" (Britannica). FIFA declined to allow this report to be published. Instead, FIFA released a 42-page summary however they mentioned little of the wrongdoings mentioned in the original report. Garcia said, "numerous materially incomplete and erroneous representations of the facts and conclusions," In May of 2015, Sepp Blatter resigned from office but accepted no moral responsibility blaming other officials for trying to stab him in the back.
Britannica says, "The culling continued throughout 2015 and 2016. On September 17 Jérôme Valcke, FIFA's secretary-general, was relieved of his duties", they state, "Then on October 8 Blatter received a 90-day suspension from the organization's ethics committee, in company with Valcke and Michel Platini (president of the European confederation UEFA), who had been considered a strong candidate for the FIFA presidency." An eight-year suspension was put on both Blatter and Platini because of a $2 million disloyal payment. Valcke was banned from all soccer activities for 12 years. A man by the name Wolfgang Niersbach was involved in a bribery scam regarding the 2006 world cup in Germany.
Also, "South Korea's Chung Mong-Joon, a former FIFA vice president who had been critical of the governing body at the 2002 congress, was banned for six years after being implicated in the bidding process for the 2018 and 2022 World Cups. Blatter received an additional six-year ban in 2021" (Britannica). All of this corruption was plummeting FIFA's reputation into the ground.
"On May 27, 2015, the U.S. Department of Justice (DOJ) disclosed a 47-count, 164-page criminal indictment charging seven FIFA executives with having received $150 million in bribes over a period of more than two decades." They further state, "the DOJ alleged that the accused had received bribes from marketing groups in exchange for television contracts." (Britannica)
FIFA was great, in organizing matches for men, women, and children and giving many people jobs around the world, "Although FIFA did appoint match officials, fund instructional courses, and organize a variety of men's, women's, and youth competitions, the organization's real goal appeared to be acquiring large sums of money in sponsorship, TV licensing, and marketing" (Britannica). FIFA though it had done a lot of good, was spending its billions in the wrong places. However, a lot of what they have done is untraceable because of shredded papers and destroyed computers.