Owl's Volleyball Guards Their Nest
Spring sports have arrived! With winter sports coming to an end, it brings a variety of sports to watch, report, and participate in. One of those is men's volleyball. A sport that relies on communication, strength, and teamwork. 
As Agua Fria High School and the rest of the district are preparing their teams for this 2023 season of volleyball, it is still being determined what audience and teams are looking forward to.
The first Agua Fria men's volleyball game was on February 28th, 2023. Agua Fria battled at home as their freshman/sophomore and JV teams were up against Prescott Badgers while varsity opponents were against the Basis Phoenix Firebirds. 
Also, before their season started, freshman/sophomore Coach McCutcheon explained briefly how their offseason had been going. "So volleyball itself runs an offseason all year from September all the way until now. They've been playing over the summer a little bit and some guys came to all of them, so you really see it pay off." It is impressive how these players spend their time benefiting the team before the season officially starts.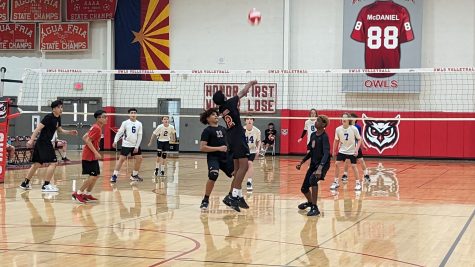 Kicking into the matches, freshmen and sophomores start off the games at 3:30 pm winning both their sets 25:18 and 27:25. Finishing their match up 2:0. Freshman and Sophomores "I'm proud of the way they played. They played really hard and they've just been executing as they should in practice", Coach McCutcheon said. 
After their game, I interviewed a sophomore player, Ivan Delgado, this is how he felt, "I feel happy. Our team did great. We had a lot of energy in there. We did have some bad times but overall we won." The freshman and sophomore teams had a great performance that day, nearly losing one set but managing to sweep Prescott. A great way to start their season with a win.
Before the JV game, I interviewed a JV player, Liam Mylchreest, and this is what he had to say, "I feel focused and energetic. I'm just ready to go out there and give it my all." Indeed he gave it his all as Liam was the star player of that game, playing defensively and aggressively, and getting appreciated by all his teammates and coaches. 
The JV team faced one of the closest games that day as they struggled in the second set as well in the early start of the final set, but they managed to win their match 2:1. The first set ended 25:16, the second set 23:25, and the third set 15:12. "I think our team composition is pretty good. I think we got in our own heads which let us weigh down a little. But once we pulled ourselves back out, we played great", Liam Mylchreest said. 
Coach Clark adds, "We got to fix our mental awareness and strength. We can't let the first set stop us from trying our hardest in the second set, assuming we're going to win. Overall, I feel great. I mean, I got to give it to mainly my players. I could only do so much and they brought it the extra mile. They did their job and I couldn't be more proud." Overall the JV team played a great and competitive match although they had a rough start in the second set but managed to bounce back and take the win.
However, the varsity owls flew higher than the Firebirds as they won their match 3:0. Dominating each of their sets as set one ended 25:7, set two 25:15, and the final set 25:11. After the game, I interviewed varsity player, Ruben Anaya, as throughout the match he made some great assists for his team and his consistency was on point. "I practice a lot cuz I've been playing since freshman year. I played in school and I also played in a club so I think it just takes a lot of practice and time." Ruben Anaya has that consistency for a reason as he's been playing for four years and during that journey, he used most of his time to practice.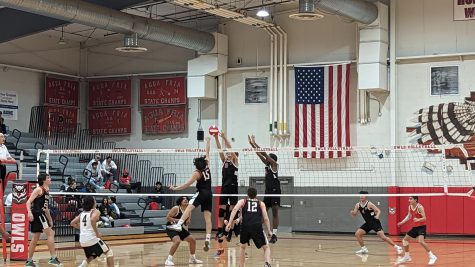 Coaches also appreciated the game as Coach Mauritz said, "It feels great. I think that was kind of our expectation, so it's exciting to see them perform at that level." Head Coach Petruzziello adds, "I'm really happy with how we played. I think varsity came out strong and we really focused on minimizing our errors on our part but I felt like we're still growing and working, and we're just trying to build momentum from here but I was overall happy." 
Coaches aren't the only ones appreciating the team as their players also love them how they are as Liam said, "I like the coaches. I think both coaches are doing a great job and they know what they're doing." Ruben Anaya adds, "They're amazing. I love that they're supportive and have our backs." 
Overall, great team morale for the volleyball team as they give positive feedback from the beginning to the end. I can't wait to see how they are going to progress during their season until their senior night, which will be on April 27, 2023. I will surely be there to support them and I hope the Agua Fria community can come to support them as well and give them the encouragement they need for their last game of the season.