Alan Estrada: The Passion of a Hard Worker Who is Striving For The Future
From a brother's perspective, Alan has always been a cheerful and confident older brother. Though he might've gone through some tough times, he manages to put that behind him and focus on what's upcoming. Soon to be a graduate, I am happy for him and will support his decisions as he heads into the real world. 
Alan is just an average and hardworking Agua Fria student. Maintaining his grades above B's, doing his school work during and after school, and with some free time he likes to play video games, watch videos/shows, play with his dog, and hang out with his friends. Speaking of friends, Alan appreciates them along the way as he said, "I'm proud of my friends that are graduating because some of my friends I knew since middle school and watching them grow and proceed to take on life is incredible, time really does fly when you overlook it."
Now as a senior, one thing that Alan despises throughout the school year, is, "fighting and fighting senioritis every day, every week, and every month. It's a long challenging process, especially when you are assigned an outrageous amount of assignments."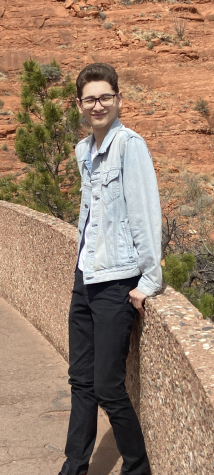 "My favorite memory by far as a senior is the times when my teachers and classmates have joyful and fun bonds with each other because it shows they're entertaining and also stay on task, keeping a perfect balance for class." Having a favorite memory during the school year is easy to remember but having a favorite teacher throughout the years is quite difficult. "I have many memorable teachers and I apologize for those who I didn't get to include but just know that I still appreciate you and care for you, but my favorite teachers are Ms. Mauritz, Mr. Kraemer, Mr. Martinelli, and Ms. Eldredge," said Alan.
Alan also achieved AP Student of the Month in January by his AP environmental science teacher, Mr. Kraemer. Mr. Kraemer adds, "It's just his passion. Alan is the kind of student that we want more of in our AP classes which are students that are super talented but haven't tried out AP before. He works really hard and is one of the most engaged students, and when he misses any assignment, he immediately makes it up. If he scores lower than his standard on a test, the next day he's in RTI and retakes it until he gets an A or B on it. Overall, he's just a hard-working kid, very passionate, and that is the reason why I chose him as one of the AP students of the month."
In addition, Mr. Martinelli sees Alan as a hardworking student as well and he said, " One thing I appreciate about Alan is that he studies and works very hard. In an age where not a lot of kids study for work outside of the classroom. He's always helping others, always on task, and being engaged in class. That's something every teacher really appreciates."
Mr. Kraemer also wishes the best of luck for Alan as he said, "I want him to do something that makes him happy and shoot for something that he's going to feel challenged and not go with something that seems easy cause it might be challenging for him further on. He is super smart, interested, works at figuring out what he doesn't know, he's very personable, and everybody likes him. Those are really good traits for him to have to be successful and all he has to do is choose what he wants to do."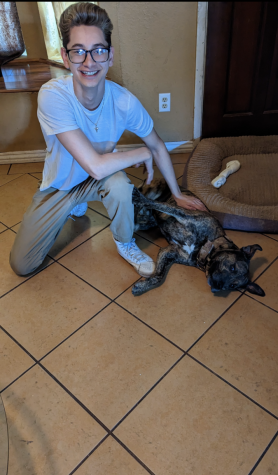 "I'm not too sure if I'm going to college because college for me right now is decisive, although I'm thinking of visiting some interns for experiences, all I have to say is life is unexpected so I might end up going to college or not. I do have a plan in mind after high school and that plan is getting out in the world and experiencing different jobs, also I might encounter many opportunities while I'm at it," said Alan. In summary, Alan is still planning on what to do after high school but I am sure he will head into the business pathway as he always thought about being a businessman or he could work in a field where collaboration is key as Mr. Martinelli explains, " I think he works really well with other people so it'd be nice if he pursued a career where he collaborates with other people. I think that's where he shines and I know he's not going to let me down."
Overall, Alan is a caring and passionate person throughout the year. Surely, he will miss being an Agua Fria student and miss the relationships with teachers and friends he encountered along the way. But now he must take what he has learned in these high school years and fulfill his purpose in this world.