The LA Chargers are Relocating to London
After a huge conference call with all the players, coaches, assistants and even the waterboy, the Los Angeles Chargers have officially decided to relocate to London.
Many speculations have seen this coming. And these speculations have finally come to life after Chargers Owner Dean Spanos came out about the situation.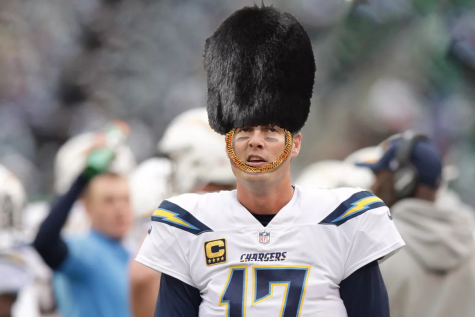 "We have realized how disappointed the Los Angeles fan base is about the free agency adjustments we have made this offseason," Spanos said, in an interview with notespn.com. "We are saddened that our fanbase won't hop on with us, so we decided to hop onto a new fan base. We will be relocating to London."
The timing for this announcement could not be any more perfect. Philip Rivers, London Chargers' former quarterback, was not allowed to move with the team because he didn't have a passport and could not find out how to get one, per Ian Rapoport.
Melvin Gordon III, their former running back, moved to the Denver Broncos because he was caught stealing the Chargers' coins from their vending machines back in Los Angeles. He was taken to court and was found guilty of petty theft. He is now not allowed to move out of the country.
"This is a triple threat win scenario," said Chargers' head coach Anthony Lynn. "We get Melvin Gordon out of the team, get Denver's first round pick AND he cannot come to our home games with Denver."
There are many players on the London Chargers who are excited to play in London. One who is especially excited is Keenan Allen, one of the Chargers' elite receivers.
"It's like a vacation every other week," said Allen in a Twitter post. "There are so many things in London that I haven't seen before, including Big Ben, and the Eiffel Tower."
This sparked controversy immediately. Many Pittsburgh Steeler fans were TERRIFIED when Keenan Allen mentioned that he would be seeing Big Ben. This influenced Ben Rothlisberger to respond to Allen's Tweet.
"I, Big Ben, will not be in London for the foreseeable future," he said. "The only times Keenan will see me in London will be in a Steelers jersey when I throw to his defenders."
Steelers fans were instantly relieved. They thought that the Chargers' gave their first round pick to Pittsburgh in order to pick up Rothlisberger. They are more than happy to know that Ben will still be the face of their franchise for years to come.
APRIL FOOL'S!: Melvin Gordon did not commit petty theft. Philip Rivers probably does have a passport. And most importantly, the Chargers are still staying put in LA.