Intelligence, Badminton and a Petition: A Senior Profile of Madison Hedges
Agua Fria is going to miss the Class of 2020. There are so many stellar students in the class that have done great things for Agua Fria. Some of the most notable impact has come from Madison Hedges.
Madison committed to ASU and got accepted into the Barrett Honors College. She will be majoring in Electrical Engineering at the Polytechnic Campus.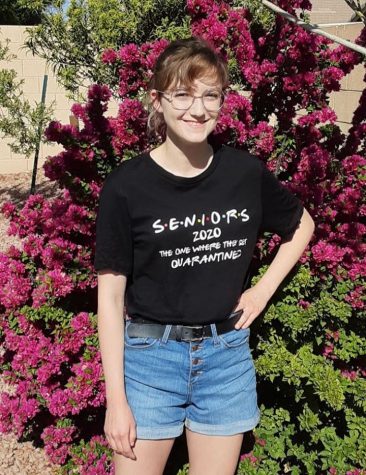 Madison did so much around campus. She is one of the most involved, motivated pupils in the student body. She had been a part of several sports and clubs. If you are at a game or at a club, do not be shocked if you see Madi there.
Freshman year would bring Madison many opportunities. She would be a part of the ROTC program, where she was able to attain a ton of community service hours in a welcoming atmosphere.
The same year, Madi would also participate in the Stem Expo, where she created one of the top projects in the district. "One thing that got me super excited freshman year was that my project placed second in the district," Hedges said.
Madi's sophomore year was a big year for her. That year, she would participate in band and first year of badminton.
"Badminton has been one of my favorite high school activities," Hedges said. "It is just a ton of fun."
It is safe to argue that her junior year was even bigger than her sophomore year. That year, she would successfully create a petition to bring Honors Physics back. 
"It was so cool to successfully pass that petition," Hedges said. "Now, I can look back and say, 'Wow. I did that.'"
Madi would also be inducted into National Honors Society that year. She also founded NASA Club, a club that is quickly gaining steam around campus.
"It is awesome that I was able to create NASA club and be president of it," Hedges said. "I am more than happy to pass down my role to Alyssa and see the club grow! "
Madi is one of the most intelligent people you will ever meet. She really has a way with math. In fact, she is taking AP Statistics and AP Calculus SIMULTANEOUSLY.
"'I love math just like a librarian would love English," Hedges said. "I just find it so interesting."
There are many things Madison has learned throughout high school that can be applied throughout her entire life.
"One huge thing I learned is that you cannot do everything. You need to manage your time," said Hedges. "That took me a few years to realize. I wanted to do so many things but I just didn't have the time."
"You need to know that it is okay to NOT do things," she said. "You need to take care of yourself first before you can do things."
Madison is clearly well-known around campus by the student body. Teachers around campus have nothing but praise for her.
"Madi is one of my best students," said Mr. Boothman, Agua Fria's Honors Pre-Calc and AP Calculus Teacher. "She also displays a level of organization I've never seen before in a student, and she knows how she learns best and is able to communicate that to her teachers."
"Madi is one of the most dedicated and most driven students I ever had the pleasure of meeting," said Mrs. King, Honors Chemistry teacher and NASA Club Sponsor. "Once Madi has an idea, there is nothing that can get in her way."
Madi would like to take a moment to thank Mr. Boothman, Mrs. King, Mrs. Holdsworth and Anna Lucas.
"Anna Lucas is a real one," Hedges said with excitement.
"Thank you, Mr. Boothman, for dealing with my antics."
"A huge shoutout to Mrs. King," she said. "I really appreciate [you] and everything you have done for NASA Club."
"Mrs. Miller is awesome. Miss Johnson is an absolute G," Hedges said.
"I really appreciate Mrs. Holdsworth," Madi said. "She is such a great teacher and a really nice person."
If you ever see Madi around, do not be afraid to say hello! She is one of the most welcoming people you will ever meet!