Gicel Aguirre: Hard-Working and Determined
Being extremely motivated and involved with school, Gicel Aguirre has had a great four years at Agua Fria High School.
Gicel possesses many qualities that have helped her make the most out of her time at Agua Fria High School. She believes that she is an excellent leader, saying "I am a leader, I have always been expressive of this quality when working with groups for school projects or tasks." 
Being a leader is definitely one of the best qualities that someone can have and also a quality that can help you succeed in your life and in what you do. In this case, Gicel played basketball for Agua Fria.
She gives credit to being on the basketball team for helping her build on being a leader and helping her work proficiently with others. "Being involved in basketball helped me build this characteristic to guide my teammates to work in cohesion and develop a bond with one another." 
Gicel's JV basketball coach, Raymond Cruz, acknowledges her hard work and her ability to be a leader. 
"She was one of our hardest workers…she was very much motivated and was a leader by action," Cruz said.
Additionally, one of Gicel's closest friends, Diana Alfaro, has also taken note of her work ethic and her determination. Diana described her work ethic as very determined and precise. 
"I would describe her work ethic as very determined," Diana said. "She always knows how to get the job done. She can sometimes procrastinate or forget but she will always make sure to get things done."
Gicel is someone who is always motivated and determined to get things done the way things should be done. She is always working hard and trying to accomplish bigger things than what she has already been able to do in her past. This became known when asked, what motivates you to succeed, she answered, "My drive of ambition is to be better, based on what I have already accomplished."
Furthermore, another big reason for her being so motivated and so determined is her family. 
"My family also plays a huge role in motivating me to do well for school, I can't let my loved ones down," she said.
Diana said they have a close relationship and have been through a lot together. "Gicel is one of my closest friends," Diana said. "We really are best friends, we have been through so much together." 
In some way, Gicel has impacted a lot of people's lives, including Diana's. Gicel has given her piece of mind in a way of telling her that some things are not as serious as they may seem. Diana said, "She has impacted me in the way of realizing somethings aren't that serious. I often tend to overthink and she has helped me in realizing things can be not that serious and just to let them go." 
Gicel also has taken part in multiple clubs on campus and she of course has made an impact by being in these clubs. She has participated in Interact Club, Link Crew, and AVID. 
Taking on these clubs has prepared her for a lot, especially with being the president of the Interact Club and being a part of AVID has helped her prepare for life after high school. "AVID has been the most impactful for me because of its college and career readiness advisement that has helped me prepare and has guided me towards my future goals," Gicel said. 
This is important to her because she has always been determined to achieve her goal of working in the medical field. "I am excited but I also feel nervous and overall ready for all the new experiences college has to offer," she said.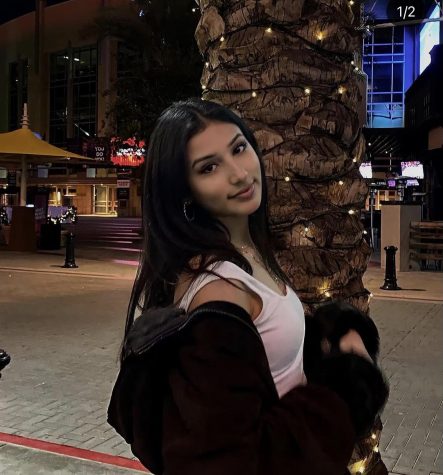 Gicel is very content with her time at Agua Fria High School. "My time at Agua Fria is full of memories that will last me a lifetime," she said. "Agua Fria is really what you make of it and for me, that was an outlet from the outside world." 
She has made countless memories with others. She said that being able to make many memories with her friends has made her feel close with them. "Being able to share so many experiences with friends made me feel inseparable," she said.
Once Gicel's final year at Agua Fria concludes, she is planning on attending Arizona State University to continue her education and to begin her studies in the medical field.
Gicel had some last words of advice to give to lower classmen: "Live your high school lives to make memories, but don't destroy your future in the process."