In Testimony, Biles Says Officials Should Be Held Accountable for Mismanaging Abuse
"As you pursue the answers to those questions, I ask that your work be guided by the same question that Rachel Denhollander and many others have asked: 'How Much Is a Little Girl Worth?'"
These were words from Simone Biles herself, after a five-year ongoing investigation, before the U.S. Senate, which had Biles, Aly Raisman, McKayla Maroney, and a few other US gymnasts testify on September 14 on the mismanaging of abuse allegations by the FBI when the gymnasts complained of being abused by team doctor, Larry Nasser. These women and many others believe the investigators, committees, and certain prominent individuals should be held accountable for their neglect and carelessness with the cases which were expressed throughout Biles's statement.
If you didn't already know, Larry Nassar is a former athletic trainer and doctor and is currently serving a life sentence as he was convicted of possession of child pornography and sexual assault. Accused of sexual assault by hundreds of young girls and women, he was dropped of charges on previous accusations but was soon convicted by guilty plea. The entirety of this investigation was during the famous #MeToo movement gained a lot of media attention.
Beginning with a formal presentation of herself and her accomplishments, Biles jumps right into the conversation at hand which entails the organizations at fault for disappointing these women and doing their jobs unsuccessfully. Not only does Simone Biles and many others want their work to be a safe space for them and not sexual abusers, but they want those who were said to do nothing at the hands of these sexual assault cases to be held accountable.
The organizations that, ¨Oversee and protect me as an athlete — USA Gymnastics (USAG) and the United States Olympic and Paralympic Committee (USOPC) — failed to do their jobs… I blame Larry Nassar, and I also blame an entire system that enabled and perpetuated his abuse,¨ Biles stated in her official statement.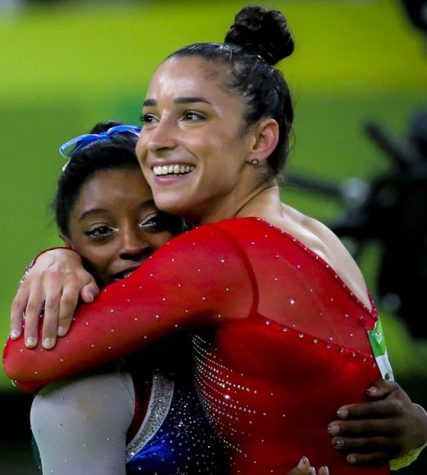 The rest of her official statement goes into detail about her story of being sexually abused and how certain officials ignored her signs of abuse. Biles even goes into how the FBI, USAG, and USOPC failed at not doing what needed to be done, along with the decline of Simone Biles's mental health and how the abuse has affected her and will continue to affect her but with her hard work she will overcome it.
The FBI was receiving a lot of backlash during this testimony and Aly Raisman, a two-time Olympic artistic gymnast, had something to say about them as well.
"The agent diminished the significance of my abuse. It made me feel my criminal case wasn't worth pursuing," Raisman said.
Not only this but the Justice Department inspector general was brought in to look into the Larry Nassar investigation due to the multitude of protocol violations. Finishing up the report, the FBI continued to receive backlash for their mistakes and it was officially put in the inspectors' report for their continuous faults.
FBI officials "failed to respond to the Nassar allegations with the utmost seriousness and urgency that they deserved and required, made numerous and fundamental errors when they did respond to them, and violated multiple FBI policies," the report stated, found on ABC7 News.
Many people believe this testimony was necessary for calling out the FBI, officials from the gymnastic organizations, and the committees apart of the gymnastic industry as they should take responsibility for their neglect and not doing their jobs because, in the end, these women should have been protected.