The Kyle Rittenhouse Case and the Verdict
Recently, a case on the murder of two people and the wounding of another occurred in Kenosha, Wisconsin, and on stand was Kyle Rittenhouse, a 17-year-old who was found not guilty of all charges on Nov. 19.
Many things happened during the trial such as Rittenhouse's 'breakdown' before the judge and jury, the judge of his case being seemingly biased and racist, and even some statements from famous people.
He was charged with several counts, which include first-degree intentional homicide, one count of attempted first-degree intentional homicide, and one count of first-degree reckless homicide. Along with these, he also got two counts of first-degree recklessly endangering safety, violated curfew, and one count of possession of a dangerous weapon by a person under 18.
Living in Antioch, Illinois, Rittenhouse crossed Wisconsin state lines before obtaining an illegal AR-15 into his possession, and under his own agenda, he took it upon himself to protect a local business from protesters that night. During some interactions, a confrontation broke out, leading to Rittenhouse opening fire on a group of people. Two people died and one person was wounded.
From NPR's article on Rittenhouse's acquitted charges, this recent verdict has amassed an extensive amount of backlash from people, especially the black community. Many protests have been occurring in several cities. Chants and signs call for justice for 36-year-old Joseph Rosenbaum, of Kenosha, 26-year-old Anthony Huber, of Silver Lake, Wisconsin, who've both passed, along with 27-year-old Gaige Grosskreutz, a protester from West Allis who was injured.
According to NPR, "Similar scenes occurred in New York City and California. Around 200 people met near the Barclays Center in Brooklyn to protest Rittenhouse's acquittal, the New York Daily News reports. The group made its way to the Brooklyn Bridge without any arrests, but another demonstration in Queens ended with five men being taken into custody, according to the outlet." 
In The Cut article, it was described that during Rittenhouse's trial, he depicted the reasons for the weapon as a precaution, and self-defense was commonly brought up throughout the testimony. He said that Rosenbaum, one of the victims, had threatened to murder Rittenhouse twice and chased him. Placing the blame on Rosenbaum, Rittenhouse believed that if he had taken the weapon away from Rittenhouse, he would have killed him and many more after.
There was much evidence provided during the trial. Also in The Cut article on Rittenhouse's case, the prosecution utilized photos and videos during that night and showed Huber and Rosenbaum's wounds. It also questioned individuals present that night, including the Daily Caller reporter Richard McGinnis, who had interviewed Rittenhouse just before the shooting. 
Dominick Black, a friend of Rittenhouse's, testified only to avoid jail time. Grosskreutz, who was the survivor of Rittenhouse's shooting, was employed as evidence. Jack Lackowiski was also a witness and testified against Rosenbaum being a threat.
Concepts such as "White tears," "White privilege," and "White fragility" are weaponized against black people, indigenous people, and people of color. A multitude of people believe that this trial was a case of just that.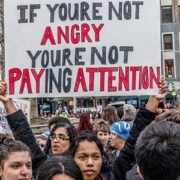 Though there were many people who had something to say about Rittenhouse's testimony, a famous Lakers basketball player tweeted about Rittenhouse's "White tears" that got him backlash, which was found in an article from The Spun.
 "What tears????? I didn't see one. Man knock it off! That boy ate some lemon heads before walking into court. [laughing emojis]," said LeBron James.
Lebron James believed Rittenhouse's breakdown lacked any emotion and was forced. This brought many people to disagree, but there were others who completely agreed with the Lakers' forward. Those that agreed believed he was speaking up against White supremacist ideology and something he believed in just like Colin Kaepernick, the former football/basketball player, or even Nike. Lebron James is said to only be using his platform for the greater good.
This case has a similarity to cases such as the shooting of Jacob Black where his murderers walk free as well. Even in many other cases involving black Individuals, where the white counterparts in each situation get to walk free or black people being prosecuted for less compared to Rittenhouse, is believed to be all rooted in a racist justice system. An exception was George Floyd's death, where the police officer was found guilty of murder.
With this Rittenhouse case, many people are seeing an unjust bias that reveals the contrasting treatment between White Americans and Black Americans as Rittenhouse gets to walk free after murdering two people and wounding another. A specific piece of this biased puzzle that was on clear display during the trial was Rittenhouse's trial judge, Kenosha County Circuit Judge Bruce Schroeder, who has been accused of being racist.
Not only did he make a racist joke about Asians but he showed his favoritism for KyleRittenhouse during the case.
Michele Dauber is a Dyanford professor who had heard about what Judge Schroeder said and had something to say about this herself.
"The biased judge in the Rittenhouse trial just made a thinly-veiled anti-Asian comment," Dauber said, according to Newsweek. "When asked when lunch was coming he said, 'I hope the Asian food isn't on one of those boats in Long Beach harbor.' Because all Asian food comes from China like the boats haha what a bigot." 
A Civil rights activist DeRay Mckesson proceeded to tweet: "It's pretty clear that this man should not be a judge of anything."
There were many components that pointed to the judge's racial prejudice, such as being praised by many conservative figures, his specific "God Bless the USA" ringtone which correlated to Donald Trump's campaign who is known for being blatantly racist, along with other accounts.
Judge Schroeder seemingly favors white individuals and roots for white supremacy which is why Elie Mystal had something to say about it.
Elie Mystal, a justice correspondent for The Nation, accused Schroeder of having "pre-judged the trial" in favor of Rittenhouse and is now taking the 18-year-old's side because he recognizes "what white people are willing to do to defend white supremacy," according to Newsweek.
In the end, Kyle Rittenhouse's verdict is believed by many to be unfair and supported by America's racist justice system. Many people believe this system will continue to support white people and abuse people of color. Families of the victims wait for justice while Rittenhouse roams free on the streets, and we wonder what's to come next with the aftermath of this case.