Nike Executive Writes Book Confessing Half Century-Old Murder
Imagine committing murder at 16 years old and living out the rest of your life never being caught, only to confess in a book that you wrote. It might seem improbable to you, but for Larry Miller, a Nike executive, it's an all-too-real scenario.
In 1965, young Miller did the unthinkable for some of us, he committed murder, killing 18-year-old Edward White. However, with unnerving success, he got away with it and was caught on his terms. 
Miller was gang-affiliated at the time and arguably didn't know any better. However, he committed murder and chose to never give the victim's family peace of mind that the killer would never be able to do this to someone else's family.
With that being said, black-on-black crime is hardly a new concept.
Now, this was 1965, and Miller, who is black, killed someone White, also of African-American descent, so it would be obvious that in that year it may have still been biased. Police may not have cared as much because of the color of this kid's skin so they investigated the bare minimum and called it a day once the answer didn't present itself right away.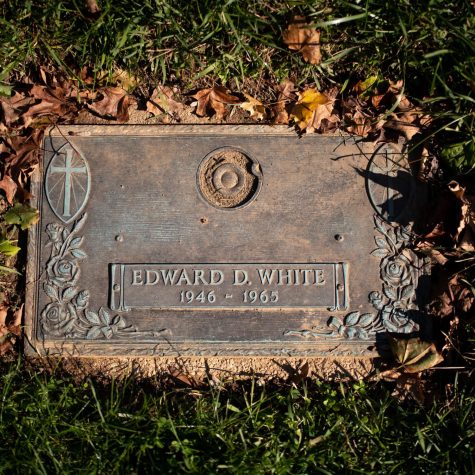 However, if you got away with murder, why expose yourself nearly 56 years later? Was this murder suddenly too much for his conscience to handle, or is he at the end of his life and wants to confess to his sins?
The only one who could answer the question of whether the moral gravity of the situation got to him would be the man himself and answer it he did. In an interview with the BBC, Miller said that "It was eating [him] up inside."
Miller is 72 years old and it only makes sense that he would make the decision to come out about his impromptu murder of White now. 
White was a father and a boyfriend at the time, and according to the New York Times was murdered by "a 16-year-old gang member, drunk on cheap wine and seeking retribution for the stabbing of his crew." They even go on to explain that Miller "shot [Edward White] with .38-caliber handgun piercing his heart and his right lung."
That was the last night that Edward White was ever seen alive. He left behind his pregnant girlfriend and his 8-month-old son.
With so many questions of why now, why like this, we haven't asked the most important question of all. Will Larry Miller be put on trial for his grievances? Will they choose to use the evidence that sits so prettily, wrapped in a bow, in front of them to convict a murderer, or will they just let it go? 
The answer to those questions is yes. The justice system is not held back by time when it comes to convicting for murder. Miller was, in fact, charged and jailed for his crimes. The family of Edward White finally has received the peace of mind that was long overdue to them.