Here It Is: The Top Albums of 2021
2021 was definitely the year for music! From rap, to pop, even indie, each genre of music had some of its artists releasing their best albums. So here is a list of some of the best albums of the year that I thought were worthy of being considered the best.
Olivia Rodrigo – 'Sour'
Starting off the year strong, 18-year-old Olivia Rodrigo released her first ever album on May 21 titled "Sour." Many fans of Rodrigo's were very excited for this release mainly due to her single "Driver's Licence."
Driver's Licence has won MTV Video Music Award for Song of the Year and MTV Video Music Award for Push Performance of the Year, along with being nominated for various awards. Many fans went crazy over the song due to it's controversial background surrounding Joshua Bassett and Sabrina Carpenter. In case you didn't hear about this information, read Makayla Kennedy's 'The Real Meaning Behind 'Drivers License' by Olivia Rodrigo.'
Rodrigo proceeded to release singles "deja vu" and "Good 4 U," which had been at the top of the charts almost all summer. 
Rodrigo is a very talented songwriter, so many fans knew this album was going to have great tear-jerking songs. Songs like "Traitor," "Enough For You" and "Favorite Crime" left fans feeling emotional as it might reflect their own relationships. 
Overall, this album is very special considering it is Rodrigo's first ever album and how she completely knocked it out of the park on one of her first tries with producer Dan Nigro. If you haven't listened to this album you are completely missing out!
Clairo – 'Sling'
During the summer Claire Cottrill, widely known as Clairo, released her second studio album "Sling." To describe this album, Pitchfork said, "On her second album, reluctant Gen Z ambassador Clairo turns back the clock, embracing classic touchstones of 1970s folk." 
The album was recorded in the mountains of upstate New York and produced by the favored Jack Antonoff, who is mostly known for producing for popular artists like Taylor Swift, Lorde, and St. Vincent, who have all released their own albums this year.
I think what mostly stands out on this album is definitely the soft vocals Clairo sings. It gives a very calm fall/winter vibe, even though it came out during the summer.
Some of my favorite tracks from this album were "Amoeba," as it's quick paced and has this unexpected groove to it; "Patridge" as it displays great vocal harmonies and instrumentation; and "Joanie," as it is a great instrumental track on the album.
This is definitely a great album for the fall and winter time and would pair well with a fireplace and a mug of hot cocoa. 
Billie Eilish – 'Happier Than Ever'
Out of all of the artists on this list, the name and album that obviously pops out the most is Billie Eilish's second album "Happier Than Ever." Eilish actually started releasing songs for this album in 2020 during the world wide pandemic. She released songs "My Future" and "Therefore I Am," which sounded very different from songs compared to her first album, "When We All Fall Asleep, Where Do We Go?"
After more songs started being released for this album in 2021, people started to stop hyping Eilish up as she started going in a different direction from her first album. People had mixed feelings about the tracks "Lost Cause" and "NDA." People were very nervous that Eilish was going through her "flop era."
Obviously, everybody started to change their mind when the full album was released. The biggest song being talked about was the track titled "Happier Than Ever" where Eilish let's listeners know more about her past relationship with Brandon Quentin Adams, also known as Q. As the track begins softer with gentle vocals and a lovely ukulele, the rest of the track gets heavy with loud drums, rock guitar, and obviously, yelling. Fans were shocked as Eilish has never displayed such emotion in a song like this before.
Aside from the song "Happier Than Ever" being strongly favored, others have enjoyed "Getting Older," "I Didn't Change My Number," and "Oxytocin."
This album should definitely be listened to as I think it's nice to see the growth in Eilish's music and how she has matured.
Little Simz – 'Sometimes I Might Be Introvert'
Highly known for her song 'Venom' released in 2019, rapper, singer, and actress Simbiatu "Simbi" Abisola Abiola Ajikawo, better known by her stage name Little Simz, released her highly acclaimed album 'Sometimes I Might Be Introvert.'
Released in September, Simz reflects on various topics of her childhood, love, and even mental health and trauma. "The orchestral unfurling of opener 'Introvert' made it immediately clear that Little Simz meant business with her fourth studio album: an intricately-woven feast of grime and trap beats, golden-hued peals of horn and cinematic levels of ambition," said El Hunt from NME. 
"From the celebratory 'Woman' to the bitter delivery of 'I Love You, I Hate You' ("Is you a sperm donor or a dad to me?" she snarled), 'Sometimes I Might Be Introvert' took on weighty topics – love, hatred, systemic racism, the ache of absence – and held them close, taking us on a rich journey that cut to the core of Britain's best rappers," El Hunt said.
The album is one of the best rap albums I've heard in a while. If someone were to ask me to recommend a rap album to them, I would highly recommend this one as it's very well written and crafted. 
Lil Nas X – 'Montero'
After becoming popular over the rap country single "Old Town Road," Lil Nas X finally releases his first album titled "Montero." 
Aside from this album being very good, we also have to give props to his advertisement, as no other artist I think has ever promoted their album like this before. With billboards being placed all over the place with phrases like "Do You Hate Lil Nas X? You May Be Entitled To Financial Compensation! Visit WelcometoMontero.com" and Instagram videos/pictures of Nas wearing a fake pregnancy belly announcing he is pregnant with his studio album, he certainly got the public's attention.
Fans were very excited to listen to this album as Lil Nas X had released some very well received singles, 'Montero (Call Me By Your Name)' and 'Industry Baby' featuring Jack Harlow. 
Once his tracklist was announced, fans couldn't have gotten more excited as the track included some amazing artists as features. "Nas makes bold moves with Megan Thee Stallion, Miley Cyrus, Doja Cat, and Jack Harlow, in the smash 'Industry Baby,' said Rob Sheffield from Rolling Stones Magazine. "He makes even bolder moves with Elton John in 'One of Me' — a beautiful moment of cross-generational, cross-cultural solidarity between two queer pop heroes for the ages." 
Nas's album takes on different topics, like sexuality, fame, and family relationships. Tracks like "Dead Right Now," "One Of Me" featuring Elton John, and "Sun Goes Down" heavily touch on these subjects and are beautifully written. 
But the album has bops like "Dolla Sign Slime" featuring Megan Thee Stallion, "Scoop" featuring Doja Cat, and already mentioned enough "Industry Baby" featuring Jack Harlow to help balance the album out with the heavy topics.
This album has rap, rock, and even ballads. It's overall a very enjoyable album that I think everyone should listen to.
James Blake – 'Friends That Break Your Heart'
Getting closer to the end of the year, British American singer, song writer, multi-instrumentalist, and record producer James Blake released his album titled "Friends That Break Your Heart." To me this is one of the best albums of the year and other people came to believe this too, even though it didn't get as much attention as it maybe should have. 
 The album depicts going through a break up, but with a friend. The album opens with one of the best tracks on the album being "Famous Last Words." This song includes very well done harmonies and simple electronic instrumentation. Another great song on this album is "Say What You Will" as the vocals and lyrics are very beautiful as Blake depicts what fame has been like for him.
Of course there are some upbeat songs like "I'm So Blessed You're Mine," and "Foot Forward."
I didn't know what to expect from this album when I first listened to it, and I think that's the best way to listen to it as each song helps build on such a relatable topic that people don't talk much about.
Adele – '30'
Finishing off the year strong (and emotionally) is Adele with her release of "30." Released November 19, Adele's album surrounds the bases of divorce, love, kids, and the scrutiny of fame. 
Adele's album literally makes you feel like you're going through a divorce yourself. Songs like "Strangers by Nature," "My Little Love," and especially "To Be Loved'" really tug on those heartstrings as the lyrics display so much emotion. Of course there are some bops like "Cry Your Heart Out" and "Oh My God," which help display Adele's versatility when it comes to different types of music. 
"My Little Love" and "To Be Loved" are personally the saddest to me. "My Little Love" showcases audio recordings of Adele talking to her young son about how she is feeling, "Mummy's been having a lot of big feelings recently (Like how?) Like, um, I feel a bit confused." The end of the song also has a recording of her saying how alone she feels. 
"I feel like today is the first day since I left him that I feel lonely," Adele says at the end of the track. "And I never feel lonely, I love being on my own. I always preferred being on my own than being with people." 
"To Be Loved" is the best songwriting I've seen from Adele. The song is perfect since it's just her and a piano. Her vocals really stand out during this song and you can feel her emotions spill out of them.
Overall, though this album is very sad, it is a great album to end the year with as it was a great return for Adele after years of not releasing music.
To finally conclude the 2021 year of music here are some honorable mentions.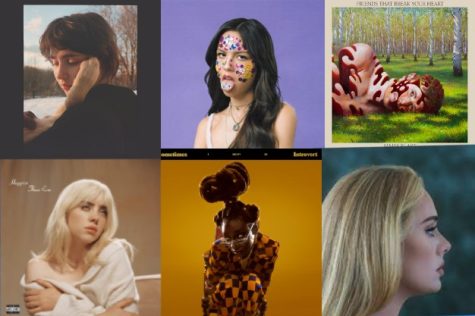 Honorable Mentions
Tyler, the Creator: Call Me If You Get Lost 

Japanese Breakfast: Jubilee

St. Vincent: Daddy's Home

Taylor Swift: Fearless (Taylor's Version) 

Doja Cat: Planet Her 

Lorde: Solar Power

Halsey: If I Can't Have Love, I Want Power

Taylor Swift: Red (TV)

Lucy Dacus: Home Video

Jordana and TV Girl: Summer's Over