Hidden Valley Makes Ranch Diamonds
If you're anything like Marilyn Monroe, then you stand by the motto, "Diamonds are a girl's best friend." 
However, what happens when diamonds go from real/lab-grown to the condiment ranch grown? I guess we're gonna have to change our material girl motto into "REAL diamonds are a girl's best friend."
Now it's not uncommon for diamonds to be made from unconventional things. However, I'm guessing everyone was surprised when Hidden Valley decided to come out with their newest version of the diamond made from ranch seasoning.
"For two months, the Hidden Valley Ranch company cooked a 2.01-carat, round brilliant-cut diamond in a lab using the famous seasoning," IE Staff, a reporter from Inside Edition, stated. 
"The diamond was burned in an oven at 2,500 degrees Fahrenheit, then pressed under 400 tons of pressure."
However, what's even more interesting is how the idea of making the ranch diamond came to be. 
Inspiration had struck one day after Hidden Valley's Valentines bottles had officially hit the line. A photo of a couple who had proposed using the bottle of ranch is what set motion for the apparent brilliance of their newest product.
"We saw a love of ranch become part of one of life's most beautiful moments," Hidden Valley Marketing Director Deb Crandall stated in an interview with NBC. "It made us wonder, how can we make this act of love even more memorable?"
So with a romantic flourish, they unwittingly set into motion the new idea of the creation of the Ranch Diamond. However, the popularity of this diamond is questionable at best.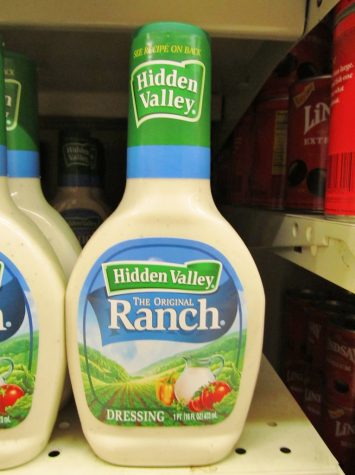 Over the course of my research, I've heard people say that the diamond "was nothing but a knock-off version of the real thing" and more than that it was a ring that "probably has an expiration date" due to the origin of its creation.
Nevertheless, because of how cheap the ring is it seems to be kind of a hit. "Starting at $310 on EBay, the bid was up to $13,250 as of Wednesday," said Accalia Rositani on NBC.
While it may seem like people like this cheaper diamond by Hidden Valley, there is a lot of controversy surrounding the ring.
The main focus of the controversy seems to be the origins and materials used to create the ring itself. Another main focus is that the ring isn't a real diamond, therefore less valuable to those who pride themselves on owning the real thing.
While it's an understandable and valid argument, what is the real need for real diamonds? They are harder to retrieve and expensive to buy. Diamonds are only for looks and therefore are of no real value, just the value that society places on them.
The goal is to enjoy our jewelry, whether it's from a gift or marriage, not to put price points on them unless, of course, you do intend to sell them. Then do your due diligence and put a price point on that puppy and sell it off to the first bidder.