The New Heartthrob Jack Harlow
Jack Harlow, an American rapper, is now America's newest heartthrob with his charming and flirtatious personality.
Harlow was born in Shelbyville, Kentucky, on March 13, 1998, and early on in his life moved to Louisville. When he moved, shortly after age 12, he started his music career with a friend. Harlow made it big and is now signed with the record label Generation Now. 
There is no doubt Harlow has an outstanding personality, but his height standing at 6'3" alongside his gorgeous smile and curly hair really reels the people in. At this point, every post made on his Instagram is filled with girls raving over him and his looks. The comment section under this Instagram post consists mostly of girls hitting on him. 
Being a big artist you typically put on concerts. At his concerts, Harlow takes the time to bond with his supporters before and after. There are countless videos that have been posted where Harlow is flawlessly flirting with them, making them love him even more.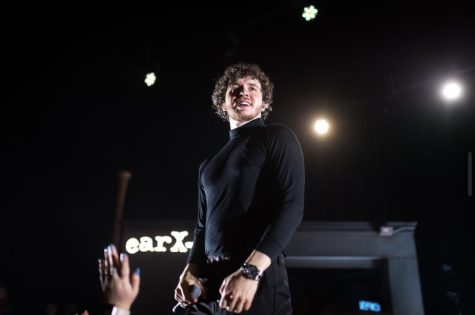 After one of his concerts, he is recorded innocently flirting with one of his female supporters. The video going around shows Harlow telling a girl he doesn't mind makeup being on his shirt as long as it was her. She is left speechless and feeling flustered by this small comment from Harlow.
He never disappoints with any of his comments from girls flirting with him. He never hesitates, just flirts back with them making them feel special. He has created this narrative in many girls' heads that if he wasn't famous they would be with him. He truly is just a smooth guy who is always ready to playfully flirt with anyone.
Harlow has an immaculate style, it matches him well and is never overdone. He appears at many events and never fails to impress. Whether it's a nice suit or some trendy outfit put together, nothing looks bad on him. His confidence and vibes seem to carry a bit of the weight of his success.
He even has good impressions of people around our campus. Gina Gonzales, a junior here at Agua Fria, said, "I like his music and his style." His great style and catchy music also bring a great number of people into his fan base.
Anyone around him seems to always be having a blast, simple funny moments always put a smile on people's face. Harlow is doing God's work and bringing people together through the love they have for him.