Draymond and Poole Altercation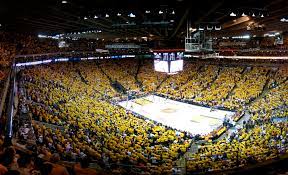 David Shaw, OwlFeed Sports Reporter
October 27, 2022
Did you know that Jordan Poole and Draymond Green got into an altercation? Well, there were definitely some emotions going on inside the practice facility between the two. As can be seen at the Draymond press conference, Jordan Poole shut down the media when he was asked about the situation between him and Draymond Green. At one point during another press conference with Jordan Poole, he answered questions about what happened. Draymond told reporters, "I'm going to step away from the team and work on my personal life and mindset."  He also told reporters, "Jordan getting a new contract had nothing to do with the fight." After the altercation, both players moved on from the situation and were ready to come back together as teammates.
When Draymond addressed the situation, he said it feels awful that it cuts to where he goes straight to Jordan Poole. "I know I'm wrong, I know I'm in the wrong, I'll accept that," Draymond said. A reporter asked Draymond, "Can you walk us through the steps of what happened?" He responded, "If I answer that, then I'll be looking to simplify. I don't want to simplify, who deserves to simplify is Jordan and this team." Throughout the interview, Draymond just keeps apologizing for his actions. Some of the people he apologized to are Jordan himself, Jordan's parents, and the whole Warriors staff. "Working on yourself is important so I'm always working on myself, "Draymond Green said. As Draymond is explaining his actions through the altercation he says "I hurt someone because I was hurt. I usually keep my emotions in and I'm not good at expressing them. I'm trying to figure out a good way to let them out. There is a reason why I keep them in so that no one can use them against me," said Draymond.
When reporters asked Jordan Poole about the situation, he didn't really say much about it. Jordan Poole said,  "We apologize. We are here to win championships and hang banners, we are working as a team to hang more banners and get more rings". TNT  interviewed Draymond privately and he said, "In the first couple years in the league your emotions are everything, you are trying to get a spot and trying to fit in with the team." During Draymond's press conference it was evident that he is truly apologetic for his actions. Everyone sees them as the dream team, so when this situation happened, no one would have ever thought that it would be the Warriors. Coming from a championship, the Warriors want to put this situation in the past and come back as a team to focus on their upcoming season.