Agua Fria Homecoming Game 2022
Happy Hallow-Homecoming! With the spooky season approaching, Agua Fria celebrated a Twisted Candyland themed week filled with games, food, music, events, and most importantly: spirit! It is such a joyous occasion that has been celebrated for many years, and now the tradition continues on. 
Once Friday rolled around, it was finally the time for the highly anticipated homecoming game: Agua Fria vs Barry Goldwater! 
The stands were filled with excitement and overwhelming support for the Owls, hoping the best for our football team to take the win during this special night. The fun and pleasant atmosphere can be credited to the students, teachers, staff, families, and even the 2012 alumni that were present for the awaited game. Not to mention, the people who orchestrated this event worked hard and did an amazing job to make it enjoyable for everyone, and to many's surprise, the game also ended up becoming free for those who brought their ID's. 
Once the game started, right off the bat, the student section brought in the energy with their tumultuous cheers and chants. Even more so when the Owls scored a touchdown in the first quarter, then boom! Fireworks! It was such a marvelous sight as the bright, colorful sparks illuminated the night sky and was a great way for getting people excited and up on their feet. 
As the game progressed, I got the opportunity to interview some spectators about their thoughts on this year's homecoming.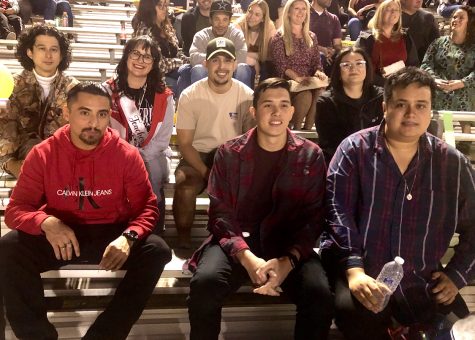 From an alumni's perspective, "It's kind of a shock to the system, just coming back to Avondale in general, not having been to the school in at least five years. But it's really fun and exciting just to be back and coming to see the student culture, see the new things and see the things that are still here and reminisce about the good old times," said Mr. Nick Balderrama. A high school reunion is definitely something that a lot of current Agua Fria students can look forward to in the future, so making lasting memories in the present and experiencing this time to fullest, will surely give many something to look back on. An advice to the students from Mr. Balderrama is this: "Take your education seriously because it will set you up for good opportunities as you go to college. You might not know what you want to do right now in life and that's okay, but take some time to dedicate to see exactly what you want to do and dive into that afterwards."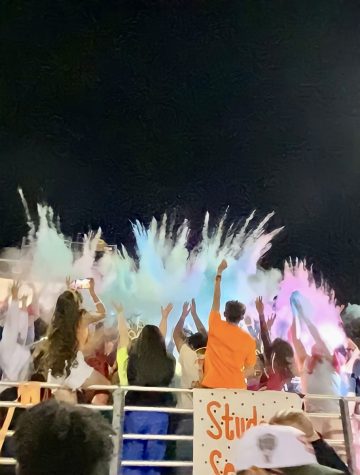 During half time, the score gap between the Owls and the Bulldogs was becoming more apparent. However, the Agua Fria family continued cheering the team on, still hoping for a comeback in the second half.
Although the game did not proceed with the Owls having the upper hand, we still had a tremendous success in support and participation. Mr. Caleb Collins commented, "I'm very glad to see the amount of students that showed up to support the Agua Fria Owls; it's awesome, it's amazing. Even if their track record isn't doing good this year, it is still just great to see the school spirit and student support." A senior, Diego Rivera, also stated that it was the first time he went to a game that was actually packed, especially on our side, and that there was hype surrounding the event. "I'm glad that I got to experience this before I go," he said.
In the end, Agua Fria was unable to come out victorious, losing to Barry Goldwater seven to forty-three. 
Another student, Karla Mendez added, "I'm just glad to be here making memories. The game could have been better, but I still had a lot of fun." Despite the unfavorable outcome of the game, the most important thing is that people still enjoyed their time and remained respectful throughout. 
When asked about his thoughts about the homecoming game, Coach Higuera said, "My favorite thing about Agua Fria is that it is a family, it is a community and you can't take that away no matter the score, no matter the situation, and once again it just comes back to having pride and the school does a tremendous job of that. I love being able to coach these kids, I love Agua Fria, I love our students, and most importantly, I look forward to continue to influence their lives in a positive direction and to continue to establish life lessons that they are going to take with them being in football, and that's what matters more than coaching. It's not just about the x's and o's, it's about twenty to thirty years from now, can we continue to do the little things right beyond athletics." Instead of stressing out and being hung up about the outcome, Coach Higuera wants to remind his athletes not to lose sight of what is truly important, as well as the lessons they have learned through all the losses, the wins, the hardships, and the successes they experienced together as a team.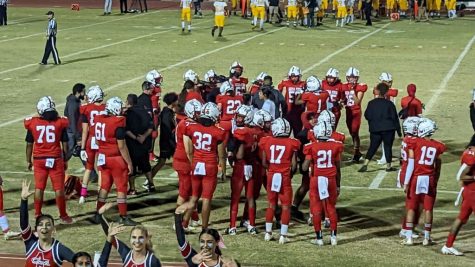 Many of the players did, however, also expressed that they stand to learn and improve from this predicament. Coming from varsity captain, Brady Salinas, "Some of the pressures my team and I faced leading up to the homecoming game was keeping our heads in the right space." Since it was the homecoming game, the team felt more pressure than usual to make amazing plays and to do extremely well. He further states, "I hope to improve our communication on the defensive side of the ball, along with trying to send more positive reinforcements to my teammates." 
That being said, Brady had this to say: "On behalf of the football team, we greatly appreciate everyone showing up for us and standing by us throughout the season. We hope to see you all next week for our senior night!" 
So go make sure to support the Agua Fria football team, especially the seniors, as their last high school season approaches its end. Remember Owls, don't be afraid to spread your wings and make every flight count!