The Misfortune of Florida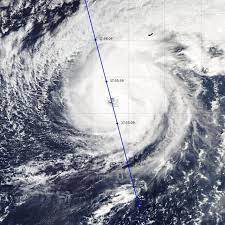 Florida has been hit with pure devastation and completely disastrous affairs. Though, it wouldn't be over after the previous hurricane that made an occurrence a few months before. Ironically, a storm was heading towards Florida on November 10th, also known as tropical storm Nicole. One of the few winter storms that were considered one of the worst to come across Florida. It affected much of the economy, residency, and lifestyle of others that live in this state. It's truly heartbreaking to see the citizens of Florida have to go through this once again after being through so many disasters. However, it's important to keep our hopes up during this catastrophe.
This storm had not only led to damage physically but caused a majority of the state to be in a horrid state of mental illness. As of right now, it's estimated that $481 million dollars worth of damage was due to the power of the wind. This already seems bad, but the subtotal doesn't finish there. Since hurricane Ian happened a few weeks ago, the repairs would approximately cost $377 million dollars. Summing it all together, it would average around a billion dollars just to fix many homes. Hearing from Arlisa Payne, a resident who lives in the beachfront community, claims that she has "never seen anything like this" after living there for so long. This might consider the point that this is an unpleasant occurrence for the citizens of Florida, and possibly worse than hurricane Ian.
The most common areas the storms were invading were near the coast. Much of the artifacts and structures would turn into fragments, then fall into the ocean. People who are near the ocean are at higher risk of getting hurt, or possibly washed away by the storm. Even being near the coast can be dangerous because of harmful objects flying around everywhere, and might strike someone. According to Sheldon Gardner, a news journalist from News-Journal said, "right now, the ocean is plagued with debris and contaminants that can cause serious harm". Many constructors are trying to work out the finance, and architecture to rebuild. This may take some time, but it's better to recover through a slow process to balance everyone's sanity.
Paramedics are trying their hardest to continue getting a few people to safety. Many services are still seeking donations or any sort of help with this. For more information, visit the Red Cross website and be another person to make a change.