Owls Tower Over the Titans
December 7, 2022, Agua Fria Owls faced the ThunderBird Titans at home field. This game was held at Agua Fria High School from 4:00 pm to 8:00 pm. Also, it was the Owl's first home game of the season for both the JV and varsity boys' soccer teams. Let's see how both teams on Agua Fria perform against Thunderbird High School on home field and aim toward victory.
The Agua Fria varsity team faced off against the Thunderbirds at 6:00 pm. Prior to the game, at 4:00 pm, junior varsity first faced the Thunderbirds. The outcome of the game was a sweep for JV as the final score was 9-4! Literally, a five-point game, and Agua Fria takes the win. Great start for JV as they win their first home game of the season, devastating for the Thunderbird High School. All that's left is varsity to take on Thunderbird, hopefully winning their first home game.
6:00 pm has arrived and it's now time for both varsity teams to prepare for kickoff.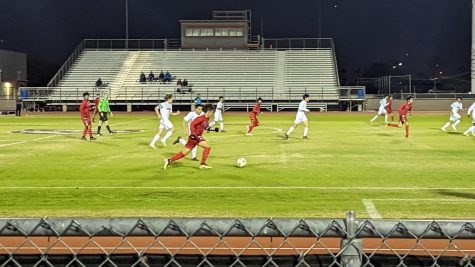 12 minutes into the game; strikers for Agua Fria are pushing through the defenders of Thunderbird. Pass over pass, Joan Soto receives the ball while three defenders are covering him. Joan shoots and… scores! Joan pulls through and scores for the owl's. Amazing effort as three defenders was not enough to cover Joan.
Agua Fria makes the first goal of the game, leaving the score board to be 1-0.
The 1st half is coming to an end and both teams are playing very well. Strikers on both sides are playing efficiently, as each opportunity they get always ends up with a shot on goal. Same with defenders, wingers, and midfielders as they steal or pass the ball to get their team at the right possession.
The 2nd and final half of the game has arrived, let's see more of what these teams can do. Thunderbird seem to be awake as they are now getting shots on goal, almost scoring and potentially tying the game. So far a rough time for Agua Fria in the final half as they struggle to keep the ball in Thunderbird territory with 32 minutes left in the game. 
However, four minutes went by and a Thunderbird striker scored a goal, tying the game 1-1. Agua Fria now needs to score a goal within 28 minutes to win their first home game.
15 minutes remaining in the game, Brandon Soto in Thunderbird territory, putting pressure on the defense and he was fouled by them. This sets up a free kick for Brandon and potentially puts Agua Fria in a great possession to win the game. Thunderbird goalie preparing himself as Brandon aims for the goal. Brandon kicks the ball towards the goal and…scores it in! Somehow, Brandon pulls through with a magnificent kick as the goalie just misses it on his fingertips.
The game ends 2-1 with the Agua Fria varsity soccer team winning their first home game of their season. 
Here are some post-game interviews from Brandon Soto: "Well personally, I think that I did not perform my best but you know we took the dub, and I feel that's what counts, but I feel all of us could always do our best." Positive feedback from Brandon, but there are always those games where it feels like you are not performing your best, and somehow manage to take a win for the team.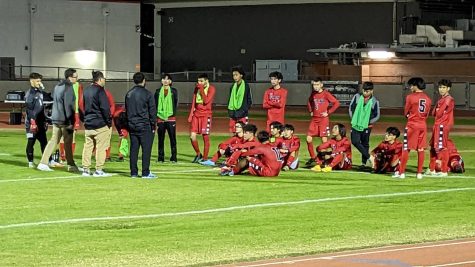 "Yeah, so it was a free kick and somehow the goalie dropped it in and you know, luck was on my side today and you know it is what it is." A very fortunate goal from Brandon as the goalie was so close to block the shot, but looks like luck was on Brandon's side, winning the game for Agua Fria.
 Great to hear from Brandon, moving on, Head Coach Caleb, a new coach for the varsity team, explains on how he tries to communicate with his players. "Yeah, so I'm a relatively new coach. So, I'm experimenting with what I can say to players, what I can't say to players, what they'll respond to, and what they won't. It's all a trial and error process. We try to make it as communicative as possible. Everybody's communicating out there, getting talks. We follow that same implementation of practice, getting that going. Try to hold back on yelling at the refs, they can get a little frustrating, but we all know we're all there. They left a great game today. Props to the refs all around good game." Great acknowledgement from Head Coach Caleb as being a new coach for a new team would cause difficulties but it seems like he is communicating with his team very well and having no issues other than referees interfering.
Overall thoughts of the game from Head Coach Caleb were, "First half was definitely better than the second. In the first half they were working hard, they were running the ball. Everybody was talking, it was a good overall half. Second half, we kind of died down a little bit. Lost some momentum, they ended up scoring. We got one back. Kind of got a little lucky on that win. Overall we're happy with the performance, happy with the win, happy to get it at home on the first on the first competition, a great way to start the home season." Although Agua Fria slowed down, they still put up a great game, keeping it close as they fought back to win against Thunderbird in their home field.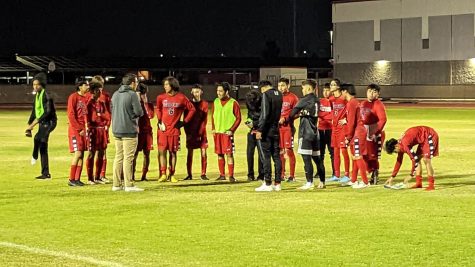 "Again happy to get the first win at home. Happy to be here in that Owls' stadium. Um It's been a while since we played here. We got a lot of home games, so hopefully we will continue the good support," is the last comment Head Coach Caleb left with. Great to see him enjoying coaching the team and acknowledging the stadium. As their season goes on, it would be great to see them cooperate and communicate efficiently to pull through tough situations and claim victories against further opponents. It would also be great if the owl community supports them in any way whether they play at home or away.