Almost EVERYTHING That Has Happened In 2020
The year 2020 was a very interesting year. From the BLM protests to the massive explosions in Lebanon, 2020 was certainly a year to remember. 
Even though we all would rather forget about these crazy past months, let's recap some of the moments that have already happened this year.
January 
When we all said happy New Year at the stroke of midnight, we all hoped for a good start to the year. Unfortunately, that was not the case.
First there were the Bushfires in Australia, which was reported as the worst wildfire the world has probably seen in decades. Thousands of homes turned into ashes, and hundreds of thousands of animals were killed.
Next, the deadly coronavirus emerged in Wuhan, China, killing its first person, then later on being reported that 56 people had died at the time. 
By mid-January, Covid-19 had spread to Japan, Taiwan, Thailand, Vietnam, Singapore, Macao, Hong Kong, France and the United States. 
Also, NBA legend Kobe Bryant, his daughter Gianna Bryant and seven others were killed in an unexpected helicopter crash in California, on Jan 26. 
Lastly, Agua Fria legend O.K. Fulton passed away at age 87 in Litchfield Park on Jan 17. According to the West Valley View, he spent 36 years at Agua Fria High School as a teacher, coach, athletic administrator, assistant principal and principal. He coached the Agua Fria men's basketball team to three state championships. He and his legacy will never be forgotten.
February 
On Feb. 5, President Trump was acquitted on both articles of impeachment — abuse of power and obstruction of Congress. This was a historic moment in US history because President Donald Trump became the third president to be impeached. 
For abuse of power, he was acquitted 52-48; and for obstruction of Congress, Trump was pardoned 53-47.
February was also the month the World Health Organization gave the coronavirus disease the name COVID-19 on February 11. 
March
March was a very hectic month. On March 11, the World Health Organization officially declared the coronavirus outbreak a global pandemic after spreading to over 100 countries. 
As cases were skyrocketing, governments all over the world decided to go on nationwide lockdowns. In the U.S., President Trump finally called a national emergency after weeks of downplaying the coronavirus. He kept saying, "This (covid) will pass," in multiple press conferences and interviews; unfortunately, that was not the case.
Like I mentioned before, lockdowns were occurring everywhere. Businesses, gyms, stores, etc., were having strict hours and limiting consumer goods.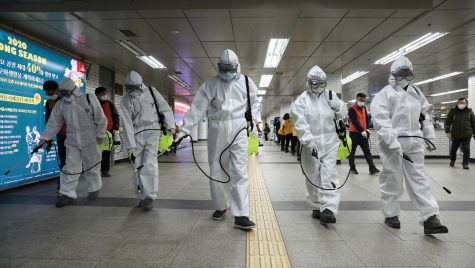 Many schools, such as Agua Fria, were on spring break and asked students not to come back and switch to online learning for everyone's safety. And college students were asked to pack up their dorms and leave campus as soon as possible. 
Even events and sports were also canceled or delayed for the rest of the year. The Olympics were even canceled and moved to the next year. After seeing many athletes tested positive for Covid-19, the NBA suspended their whole season. 
While everyone was in a panic, and everything was locking up, U.S. stocks took a significant downfall on March 16. According to the Insider, the Dow fell a sharp 2,997 points, making it the most significant drop since 1987.
April 
At this time of the year, everyone was locked in their homes, and Covid cases were increasing like crazy. By the second day of April, the pandemic had infected more than one million people worldwide. 
The state of New York also got the highest number of Covid cases, more than any country in the world.
Also, it was reported on April 2 that over 6.6 million Americans filed claims for unemployment in one week according to the U.S. Department of Labor and 10 million over 2 weeks. 
In Wuhan, China, government officials had lifted the city-wide lockdown after 76 days. But Wuhan citizens and visitors were on strict guidelines. 
Even though people were stuck at home, many people took advantage, like University of Arizona freshman Soraya Movassaghi.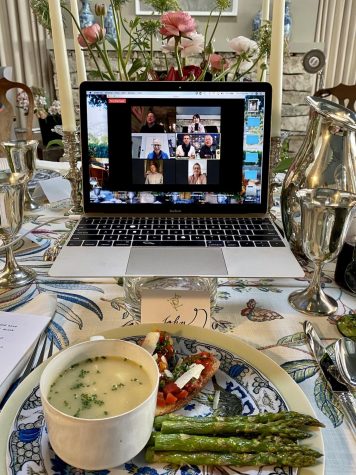 "Being stuck at home was a blessing and a curse. I was able to focus on myself and do things like garden, freaking garden. I would've never imagined myself as a gardener," she said, laughing. 
During this time, many people were able to rekindle relationships with families and find new hobbies, such as puzzling, making their own masks, doing TikToks, or even starting a small business
If you want to read more about what people did while bored at home, you should read Bella Tarzia's 51 Things to Do While You're Social Distance from OwlFeed.
Lastly, while everything was going on this spring, Congressman John Lewis, unfortunately, died at 80 after battling stage four pancreatic cancer. He played an important role in the March on Washington in 1963 with Martin Luther King Jr. His work and determination won't ever be forgotten. Rest in Peace John Lewis. 
May, June, & July 
As upperclassmen graduated from their cars and students began their summer vacation at home, many people believed that the virus would be gone because of the summer heat, which wasn't the case; however, cases were starting to go down a little. 
Dr. Anthony Fauci even said to Bloomberg, "It doesn't look like there's any significant impact right now from the weather."   
Fauci also warned Congress in June regarding the way the U.S. is handling the pandemic and said he "would not be surprised" if the country saw up to 100,000 new coronavirus cases daily "if this does not turn around."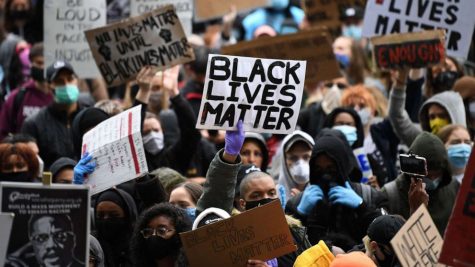 The biggest story of the summer was the killing of George Floyd on May 25, which sparked a nationwide protest against racism and police brutality.
 A Minneapolis police officer had put his knee on Floyd's neck as he screamed, "I can't breathe."
People first took to the streets of Minneapolis to express their anger with the city. Sooner than later, the protest became more than George Floyd, and that's how the Black Lives Matter movement grew, aided by the help of social media.
By June 6, all 50 states were protesting for the innocent lives that were being taken, like Breonna Taylor and Ahmaud Arbery, who both innocently died this year. 
People were tired and angry and were ready for change. Though most of the protests were peaceful, some did get violent and even left many people injured. There were even small riots and looting in some major cities. 
President Trump was not in favor of these protests and even tweeted out calling the BLM movement a symbol of hate and continued to retweet white supremacist tweets. 
This was a big story, and if you want to read more, I do recommend reading OwlFeed's The BLM Movement: A Conversation with Alaysia Brandy by Araceli De La Torre Marin. 
August
School came back in session (well back online). Agua Fria High School announced that students and teachers would be starting their 20 – 21 school year entirely online. Students only had three classes a quarter for nearly two hours and office hours on Wednesdays. 
While on the topic of Agua Fria, the Owl family lost someone very dear to our hearts. Attendance clerk Lisa Palacio died on Aug 4, 2020. She had gotten sick the summer before and was battling pneumonia and Covid-19. She was truly loved by all staff, teachers, parents, and students. We all miss her very much, and she won't be forgotten. Rest in peace, Lisa Palacio.
Another person who will also be missed is actor Chadwick Boseman who died at the age of 43 on Aug. 28 after his four-year battle with colon cancer. His death shocked the whole world since Boseman was still working on many films despite his illness. He is well known as the Black Panther in Marvel. Rest in power, Chadwick Boseman
During this month, many west coast states faced a large deadly wildfire, from California to Washington, leaving many people to evacuate their homes and cities. The fire burned over millions of acres, polluting the air and its lands. 
In international news, a massive explosion erupted in Beirut, Lebanon, on Aug. 4 by accident with a detonation of 2,750 tons of ammonium nitrate. It killed over 200 people and injured many. 
Lastly, Joe Biden announced on Aug. 11 that he chose California senator Kamala Harris as his running mate, making her the first black woman and the first Asian woman on a major party's presidential ticket.
September 
As the fall was coming down on us, the U.S. lost someone amazing and important. Supreme Court Justice Ruth Bader Ginsburg died on September 18 after battling metastatic pancreatic cancer. She was on the federal bench for twenty-five years as the second woman to ever serve on the United States Supreme Court. Throughout her time, RBG continued to be a leading voice for gender equality, women's interests, civil rights and liberties. She was a true trailblazer and won't be forgotten. She inspired many women, people of color and LGBTQ+ people. 
What also happened in September was the BLM protest reached 100 straight days in Portland, Oregon. For 100 days, the people of Portland were restless, asking for justice, while police officers and task forces attacked them, using tear gas, pepper spray, batons, rubber bullets and other munitions. Most times, the police attacked them with little or no provocation.
October 
Covid cases were beginning to go down in the US as we started the month of October. In the world of politics, because it was the month before the election, political ads were popping everywhere on everyone's media and both candidates were making their final destinations before next month's election.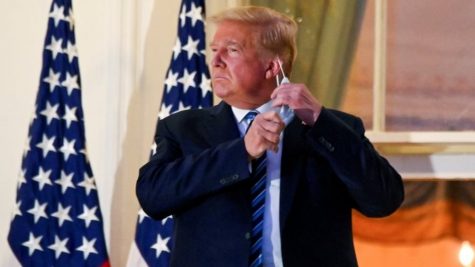 Unfortunately, President Trump and Melania Trump revealed on October 2 that they both had tested positive for Covid-19. Trump was supposed to quarantine for 14 days but decided to go back on the campaign trail. No medical proof was given to the public about Trump's real health, or when he got tested last. 
While that was going on, President Trump appointed Amy Coney Barrett as the newest judge to the Supreme Court, replacing the late Justice Ruth Bader Ginsburg. Though the Democrats in the Senate were very against Justice Barrett, they were outnumbered in votes, and Barrett was sworn in on October 26, 2020. 
Outside the U.S., Nigerians had been protesting for change against the Special Anti-Robbery Squad, aka SARS, which wasintended to help stop crimes but was now abusing their power to terrorize young people. The #ENDSARS started to trend mid-October as a calling to the government, but the government's response was only to reinforce protesters' views. After weeks of mass demonstrations against police brutality, President Buhari and the government agreed to disband SARS. 
On a good note, the game Among Us rose to popularity this month. The game can be best described as Mafia, except everyone is a crewmate, and there's one imposter you have to find while doing tasks. The game has millions of users and is one of the most trending apps and games of the year. For more information on this game, you should read The Newest Obsession Among Us by Anna Salinas from OwlFeed.  
November 
The biggest and most highlighted news in November and of the whole year was the U.S. 2020 election. After a hectic four years of President Trump, everyone around the world tuned in on November 7 to see Joe Biden get elected as the 46th president of the United States.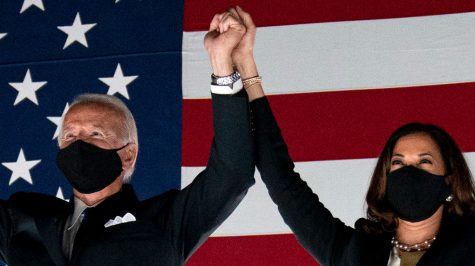 The real highlight of the election was when Kamala Harris became the first woman in the office and the first African American and Asian-American Vice President. 
The aftermath of the election was the real deal because Trump refused his loss and did not let the Biden campaign start transitioning. He demanded a recount and called fraud on the whole election with his supporters right behind him. 
Onto a worldwide event that happened this month, it was reported on November 2 that there was a terrorist attack in Vienna, Austria, near a synagogue. Four people were killed and 23 others injured after a man named Kujtim Fejzulai, an Islamist terrorist, opened gunfire. Later it was revealed that Fejzulai had connections to the terrorist organization known as ISIS. As of right now, there is still an investigation still going on.
However, that wasn't the only big news in November. On November 9, according to CNN, Biontech and Pfizer, a pharmaceutical company, announced to the world that their trial for the Covid-19 vaccine was extremely effective and are near completion for a vaccine to be available to the public. 
The vaccine was reported on the Pfizer website to be more than 90% effective. Pfizer also said up to 50 million doses could be available globally by the end of the year, with 1.3 billion available in 2021. 
Lastly, I want to say rest in peace Alex Trebek. The iconic Jeopardy host died this November after a long battle with stage four pancreatic cancer. Thank you very much for your time on Jeopardy, you will be missed.
December 
Thankfully the year at this point is almost over. We're still facing the aftermath of the election, and Covid cases and deaths are increasing every day due to the holidays. 
President-Elect Biden and Vice President-Elect Harris are working every day to bring our country back to normalcy, hopefully. And Trump is still refusing to accept Biden's win and has lost every lawsuit alleging fraud in the election. 
I do want to mention Brandon Bernard; he was a man who was executed by the federal government at 9:27 p.m., December 10. His execution was very important because this was the ninth federal inmate to be put to death this year, and the crime he committed was over 21 years ago. For further information, please check out 'Abolish the death penalty': Brandon Bernard execution prompts wave of anger in The Guardian. It talks about what he did and everything regarding his sentence. 
On a happier note, Disney announced regarding their newest movies and short films coming out in the next few years. Some notable mentions are the new Fantastic Four movie, the biggest Marvel and Stars Wars projects (Black Panther II, She-Hulk, Obi-Wan Kenobi, Star Wars Ahsoka, etc.), and the new animation projects (Pinocchio, Peter Pan and Wendy, the Lightyear Movie, etc.). That's just a small portion of what Disney will be releasing in the next 1-2 years and we're all super excited.  
Wow! What a year it was. We all thought that this year was going to be our year but nope. However, this year is not over yet, so anything can still happen in these next few weeks.
Everyone and their mothers probably all had a bad year. The year 2020 will indeed go down in the history books. There was so much happening this year, it's hard to cover it all in one story. 
I wish the best for the many families and friends who lost someone this year, whether through the raging fires, deadly virus, or anything else. We all just beg that 2021 will be nothing like this year.
Happy Holidays everyone, don't forget to be safe.