The Effects of the Russian Invasion on the Sports World
As the Russian invasion of Ukraine continues, things are starting to change worldwide. One of these things is the sports industry.
The effects of the Russian attack on Ukraine are causing effects on the sports and entertainment world, where figures and players have spoken out about these circumstances.
As Russia's invasion of Ukraine continues, numerous international sports leagues and organizations have suspended Russia from international competitions which have affected sporting activities around the world. 
The Union of European Football Associations (UEFA) has confirmed that Russian and Ukrainian clubs and national teams competing in UEFA competitions will be required to play their home matches at neutral venues until further notice, SkySports.com reported.
Spartak, Moscow will be affected the most as they are still in the Europa League where they play RB Leipzig. As Russia invades Ukraine, aggression is escalating and they are contemplating moving this season's Champions League finals away from St. Petersburg. 
Ukraine's domestic football league was meant to restart a few days ago post-winter break. But now matches have been paused for a minimum of 30 days. "After the imposition of martial law in Ukraine, the championship draw has been suspended," the league said in an affirmation. 
World Athletics commented, "All athletics, support personnel, and officials from Russia and Belarus will be excluded from all World Athletics Series events for the foreseeable future, with immediate effect."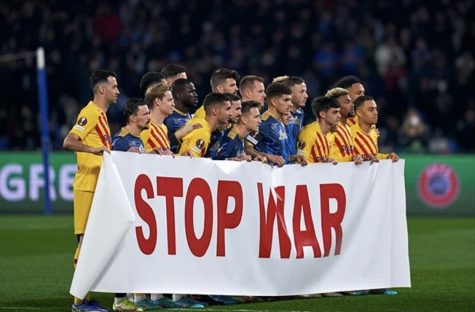 "We stand in solidarity with our fellow athletics, competitors, and friends from Ukraine who are facing far greater challenges than just disruptions to their training and competition but are in fear of their lives and the life of their loved ones," World Athletics Athletes' Commission chair Renaud Lavillenie said. 
Furthermore, according to the International Olympic Committee, Russian national teams have been banned from all international competitions. This will forbid all Russian athletes from participating in the World Cup, Olympics, and European Championship as well as others, Aljazeera.com reported.
For soccer, clubs across Europe have shown their support for Ukraine, including Barcelona and Napoli. Before their Europa League match, they brought out a banner that read, "Stop War." Also, Ukrainian players have received standing ovations from fans during games, such as Manchester City defender and Benfica forward while holding the banner which is a cherished thing to do after all disastrous circumstances, as shown in the article from Aljazeera.com.
In the world of sports, for players, coaches, supporters, and fans it has been upsetting the way things have turned out for players who still continue to want to play.
To conclude this tragic event happening it strikes fear for all people around the world, especially for people in Ukraine and Russia.