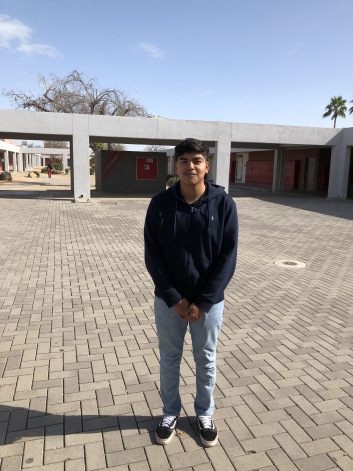 Nicholas Tallabas, "emphasis on Tall," is the newest opinion writer for OwlFeed. The 16-year-old junior may seem conservative in person but he can get his point across when he's given a topic that interests him.
Nicholas thought that journalism would be a cool class, his interest in it came from his confidence in his writing skills. According to Nicholas, he "doesn't love writing but is pretty good at it."
As a junior, Nicholas is starting to think about his future plans after high school. Although he's not sure about what exactly he wants to do, he knows for sure he wants to go to college.
Through freshman to junior year, Nicholas has made changes to himself. He's proud that he is trying a lot harder now and getting what he needs done. If he could go back to freshman year and have the mindset he has this year, Nicholas would start over.
Nicholas has a lot of favorites but a lot of least favorites too, like in other terms of art, he considers himself to not be very expressive. His least favorite class that he currently takes is Fundamentals of Art. Another one of his least favorite things would be heights. He wouldn't consider it a fear, but he does get nervous around them. Nicholas isn't too interested in sports but does enjoy watching the Dallas Cowboys or Chicago Bulls. He also enjoys playing basketball with his friends. Another one of his favorite things is the color blue and the fact that he's kinda tall. When it comes to listening to music, his favorite artist is Roddie Rich. Nicholas likes listening to artists who tend to sing and rap.
His home life is surrounded by his three brothers and sister. With three older siblings to look after him, he's the second youngest. Heis inspired by his mother who is "hard-working and gets her business done," said Nicholas.
Nicholas grew up in Buckeye but he moved around a lot. He even lived in Colorado for three years! If Nicholas could bring something from Colorado back to Arizona he would bring the cool weather.
If Nicholas could trade lives with any person it would be cool to be LeBron James. Even though Nicholas likes the fact that he's kinda tall, he would like to be as tall as LeBron James with the same skills.
Although Nicholas keeps to himself, the humorous junior can keep a conversation going when talking to people who match the same vibe. Getting to know Nicholas takes more than just reading an article. If you're looking to have a chill conversation look for Nicholas!
By: Samantha Lopez
OwlFeed Journalist
Nicholas Tallabas, OwlFeed Journalist
May 04, 2020

What's Next for the NBA?

(Story)

Apr 16, 2020

OPINION: Can America Withstand the Coronavirus?

(Story)

Mar 01, 2020

OPINION: Legalizing Marijuana For Adults Will Boost Economy

(Story)

Feb 24, 2020

OPINION: Don't Take Your Freshman Year For Granted

(Story)