AFHS Wrestling Working for the Win
Pre-season during the fall.
As the fall sports came to an end, the winter sports teams were hard at work preparing for their season. Particularly, the Agua Fria wrestling team has shown dedication that can be seen through their extensive practices. 
Before the season started, the Owls practiced every day after school in the wrestling room for three hours straight. They even practiced on Saturdays prior to the start of their first official match. "We've been preparing a lot during the off season. I also feel like coming back in here, we're really working on the fundamentals of the sport. It's quite interesting going back to the basics and going all over them, then adding more techniques as the season progresses," Alexander Canisales commented. Not only that, some of the members have been training since the summer, showing their commitment and passion for the sport. Brady Salinas stated, "I went to a wrestling camp at the Air Force Academy and some of us went to a camp at ASU." Although our school's wrestling team has a fresh, young team, with everyone showing up for practices, putting in the work, and giving it their all, it seems that there is not a lot to worry about as they were looking pretty solid even before the winter season started. "We have a young team, we only have a few seniors, but we have high expectations for them. I think we have some younger guys that are going to step up for us and so we always have high expectations in our program," Coach Jason Richmond said. Watching the team prepare for their first match, their future definitely seemed promising.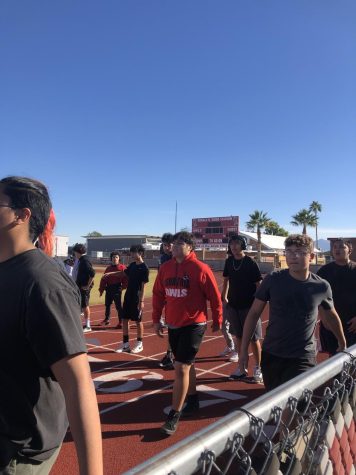 A few weeks later, the winter sports commenced. As the season changes and the temperatures are dropping, so do the other schools' records as they go against this year's Agua Fria wrestling team.
At the time of writing this article, both the boys and girls' teams are currently undefeated, their records being 3-0. The boys, against Kingman, won 48-24; 47-26 against Cactus; and 42-28 against Dysart. At the Pat Kenny Invitational Tournament, Agua Fria also placed 6th out of 23 teams: Cesar Villalobos in 6th place; Jesse Galaviz, Mathew Cabrales, and Dominik Austin in 5th place; Brady Salinas, Isaiah Murillo, and Isaiahs Riojas in 3rd place. At the same tournament, the girls placed 4th overall: Ariadna Shoemaker and Avelyn Zacaria in 4th; Lucy Laracuente and Quetzali Zacarias taking 1st place. The Owls also hosted their annual Big Red Tournament on December 9th and 10th, which was also a success.
These matches all contribute to the entire team's development, especially as the new members start to gain experience along with being able to learn from their experienced peers. Lucy Laracuente said that many of the younger members have "caught on pretty fast and are not too bad." Some of these athletes will also be competing at the varsity level, which is quite impressive and an amazing personal achievement. From another experienced player's perspective, "I'm looking forward to all these young athletes beginning to start their wrestling career and show the world what they're truly capable of. I believe that all of us have been putting in numerous hours or work and we are more than prepared for what's to come," Brady said. It is truly nice to see how the team supports each other, pushing themselves and one another to become better wrestlers. As Lucy added, "I hope this team grows more as a family, and the younger kids learn to trust us and grow better as people, that way they can take our roles when we graduate." The team's success not only relies on the capabilities of each individual member but also on how they communicate and work together as a team which truly helps them get to a higher level of both competition and connection. 
All that being said, wish the boys luck as they head to Utah for a tournament this weekend. In their last one of the year 2022, hopefully, the Owls dominate the competition and show them their Agua Fria pride!