OPINION: Top activities for the Top season
It's finally the best time of year, however with Christmas right around the corner we often cram in so much stuff that we don't know besides the gifts and the lights we often forget what to do during this season. So today we will discuss the main question, what are some fun, festive and exciting activities to do? Christmas party, Christmas lights, Christmas movies, hot cocoa, etc. Christmas is a very cozy time of the year. Amazing songs and movies but there are so much more to do than just that. 
During the best time of the year, one fun activity to do is to go and drive around and watch the Christmas lights. It is a known fact that watching Christmas lights makes people happy. The lights trigger dopamine in the brain that causes the feeling of feeling good and happiness. People enjoy putting them up and people enjoy going and looking at them. It is a fun activity for families, friends, or couples to go and do. It brings a fulfilled and happy feeling. It is also fun to see the differences between all the houses. 
Another fun activity to do is to go to or host a Christmas party. Christmas parties are one of the most famous things that people do during the Christmas season. Hosting a party during the best time of the year is especially fun because you can do games, white elephants, make delicious food, and so much more. White elephants are very fun because you 1 get a gift and let's say you don't like it you can end up stealing someone else's. It is one game you should definitely have if you are hosting a Christmas party. Also at a Christmas party, it's fun to even see and eat the food you cook or see. During Christmas, there isn't a specific food during the Christmas season but there are delicious foods to cook. Like lasagna or  tamales.  Although there are so many Christmas games, one of the most known ones is the Christmas Saran Wrap game. It is a game where there are little gifts or even candy. They are all wrapped in saran wrap and there are dice you roll. Whatever number it lands on, that is how many seconds you have to unravel it. Having a Christmas party is a great activity to do.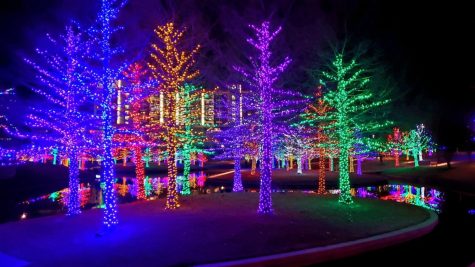 In addition to having Christmas parties and looking at Christmas lights, watching Christmas is ultimately one of the best things you can do. There are so many good Christmas movies for example, How the Grinch Stole Christmas, Elf, The Christmas with the Kranks and so much more. Just imagine, you are in your Christmas pajamas with your warm hot chocolate in your hand while watching one of your favorite Christmas movies, while staring at your Christmas tree. It is such a cozy feeling and a happy one. There are more fun activities to do during the best holiday than other holidays. It is truly such a good feeling when you sit down with the ones you love most and enjoy a yummy hot chocolate and a cute, cozy, and sometimes funny Christmas movie. 
Although not a lot of people love Christmas it really is a very special holiday. Some people love it and don't exactly know what activities or what to do. This is why these very fun activities were explained so it can help those of you who don't know what to do.  Christmas parties, cozy Christmas movie nights, and watching the Christmas lights are the best activities to do during this holiday season.