OPINION:The Killing of Breonna Taylor
2020…one of the worst years, not only in the aspect of the pandemic but also in the painful repetition that we lost even more black lives. In 2020, we lost Breonna Taylor, George Floyd, and so many more black lives due to racism. Breonna Taylor was murdered in her own apartment during the botched raid in her apartment. 
Breonna Taylor was a 26 year old female who was a medical worker. In March 2020, Breonna Taylor was shot and killed. At least 7 white police officers forced entry into her apartment, during a botched raid in her apartment. Her boyfriend Kenneth Walker had said he heard no announcement that the police officers were going into her apartment. Walker thought they were intruders and had shot a warning shot at them. That shot had hit one of the police officers in the leg. As they realized he was shot, they had fired shots 32 times. Walker was unhurt. However, Breonna was hit by 6 bullets and died. During this incident, another police officer had moved to the side of the apartment and shot 10 bullets through a covered window. Taylor's apartment was never even searched.
However, Walker was charged with assault and attempted murder of a police officer. Then on June 23rd, 2020, Officer Hankison was fired for firing blindly into her apartment. No officer was charged with the shooting of Taylor until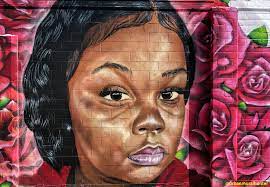 August 4th 2020 the justice department had charged 4 current and former police with federal civil rights violations and also lying about having a search warrant. September 15th, is when the city of Louisville agreed to pay Taylor's family $12 million dollars.  Breonna Taylor's death was incredibly messed up. Ms. Taylor's family has long pleaded for justice. Breonna's case started to come to light in May 2020. This was the year we had also lost Geroge Floyd due to racism. 
In June, the Louisville Metro Council unanimously passed an ordinance. It is called the "Breonna Law" banning no-knock search warrants. They as well said body cams must be on during searches. All the police will now have to wear them at all times, this news is incredible. Knowing a law changed for the sake of Breonna Taylor is amazing. She did not deserve to be taken from this world so young but if anything, the law did change for her and now it will stop this from ever happening again. This incident is heartbreaking for her family and so many more people. 
We've lost so many beautiful black souls due to racism and it is still continuing here today. This racism and injustice needs to stop. Breonna Taylor still should be standing here alive today, with her boyfriend and family. The officers should have never gone in without a warrant or without warning. The officer also should have never shot into her window blind. It is so wrong how many beautiful black lives have been taken from this world.